Barclays Awards Jenkins First Bonus as CEO, Cuts Pay Pool
Richard Partington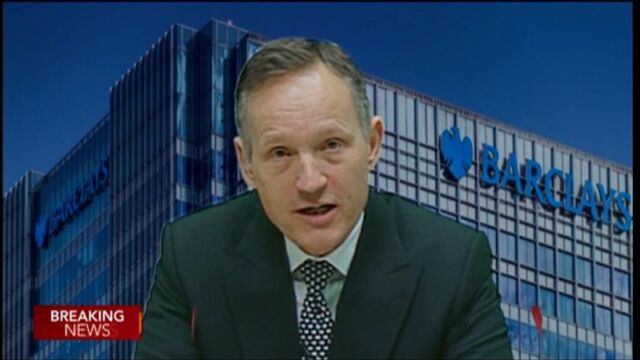 Barclays Plc paid Chief Executive Officer Antony Jenkins his first bonus since taking the job in 2012 as the bank reported an increase in annual profit, while shrinking overall awards in the investment bank.
Jenkins, 53, was awarded a 1.1 million-pound ($1.7 million) bonus for 2014, while his total annual compensation was 5.5 million pounds, the London-based bank said in its annual report Tuesday.
Two and a half years after replacing Robert Diamond as CEO, Jenkins is working to shrink the fixed income-dominated investment bank his predecessor created and focus on more profitable businesses. Pretax profit for 2014 rose to 5.5 billion pounds from 4.9 billion pounds a year earlier, the U.K.'s second-largest bank said.
"Based on the solid 2014 overall performance, and in particular the considerable progress made against the group strategy, we regard these bonuses as appropriate and deserved," John Sunderland, chairman of the remuneration committee, said in the annual report.
The bank cut variable compensation by 22 percent to 1.9 billion pounds from 2.4 billion pounds a year earlier. Finance Director Tushar Morzaria was awarded 2.7 million pounds in total pay.
Shrinking Average
A total of 273 employees were paid between 1 million pounds and 2 million pounds in 2014, down from 363 people a year earlier. The bank said more than half of those staff are based in the U.S., while a third are based in the U.K. The average value of incentive awards given to staff at the investment bank was 51,400 pounds in 2014, down from 61,000 pounds a year earlier.
Barclays said the highest-paid senior executive below board level got 3.3 million pounds in 2014, without naming the person.
Jenkins opted to forgo his bonus in the past two years after the Libor scandal, a 5.8 billion-pound rights offering, and probes into currency market manipulation. He still received shares valued at as much as 4.4 million pounds as part of a long-term incentive plan last year, four times his 1.1 million-pound salary, and a 363,000-pound pension, according to the bank's annual report.
"I judged it was right to take my bonus, not having taken one in the previous two years," Jenkins told BBC Radio 4's "Today" program on Tuesday. "Because of the progress, and I completely agree and emphasize we're not done yet, we've got a lot of work to do, but we've made good progress and my bonus reflects that."
Before it's here, it's on the Bloomberg Terminal.
LEARN MORE