As Abe Woos China, Fancy Toilet Seats Spur 1,400% Laox Rally
Tom Redmond, Yuko Takeo and Nao Sano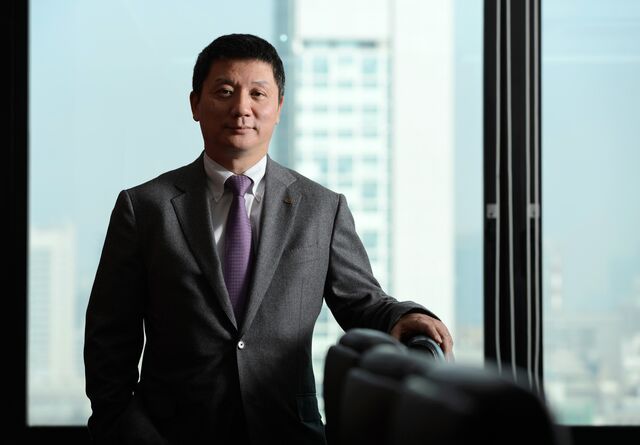 Thousand-dollar rice cookers and toilet seats that know when you enter the room.
That's what visitors to Japan from China have been buying at Laox Co., sending the Tokyo-based duty-free store chain to its first profit in 14 years and its shares up 1,400 percent through yesterday from a low in 2012. The stock gained 1.5 percent today to close at the highest since July 2009.
The Chinese-owned company has had an unlikely ally: Prime Minister Shinzo Abe. While Abe's government has sparred with its communist counterpart over ownership of islands in the South China Sea, Japan has also been courting its neighbor's citizens by relaxing visa rules. That's led to record tourist arrivals, and thanks to Abenomics, a weaker yen is putting more money in their travel wallets.
Luo Yiwen, Laox's president, says he knows the shares have gained a lot, and that a flare-up in tensions -- or another big earthquake -- would hurt his business. Yet he says the exuberance isn't that irrational. Japan is opening up and ties with China will only deepen.
"Yes, our shares are rising on expectations, but they aren't that strange," the 51-year-old says. Soon the stock price will also be supported by earnings, he says.
Chinese tourists are the big spenders at Laox stores, accounting for as much as 70 percent of sales, according to Luo. They come for the Japanese rice cookers, he says, often buying three and selling two at home. Heated toilet seats, which raise their lid when you walk into the bathroom, and have a myriad of washing and drying options, are another big draw.
"Laox knows what Chinese people want," said Mitsushige Akino, executive officer of Ichiyoshi Asset Management Co.
Lucky Bags
Some 13.4 million people visited Japan last year, the most on record. About 2.4 million of them were from China, also an all-time high. The yen has slid 29 percent against the yuan since Abe came to power at the end of 2012, amid unprecedented monetary easing that he advocated.
Well-heeled visitors to Laox's main store in Tokyo's Akihabara district, known as the electric town, snapped up Chinese New Year lucky bags costing 6.66 million yen ($55,695) with no guarantee of what's in them, according to Luo. That's more than the average Japanese worker earns per year.
Investors are splashing their cash around too. Laox has become a $1.5 billion company on profit of about $10.4 million, trading yesterday at 144 times earnings.
"Laox shares are looking overbought," said Nobuyuki Fujimoto, a senior market analyst at SBI Securities Co. "Once larger players muscle in, it's hard to say if they'll keep their position."
Business Strategy
For much of the past decade, chasing the Chinese tourist dollar was hard. First the global financial crisis, then the 2011 nuclear disaster, and then the spat over the islands known as Senkaku in Japanese and Diaoyu in Chinese dented enthusiasm for visiting Tokyo.
Luo has lived through all of that, getting the top job at Laox in 2009 when Suning Commerce Group Co., the largest retailer listed in China, started taking over the company. Relations between Asia's two biggest powers will improve, said the Shanghai native, especially once they get past tension caused by China's economy overtaking Japan's. There are already signs of a thaw: Abe and President Xi Jinping had their first meeting last year.
"We're neighbors, and economic powerhouses, and there's the island problem and the history issue," Luo said. "If relations between Japan and China are bad, so is our business."
China's leaders have a different perspective. They aren't happy about the rush to buy Japanese toilet seats, according to a report in the U.K.'s Telegraph newspaper, which cited the state-owned Global Times as saying Chinese people must aim for higher goals.
Luo, a Yokohama National University graduate and fluent Japanese speaker who first landed in Tokyo in 1989, will be watching developments on both sides of the South China Sea.
"The biggest risk is politics," Ichiyoshi's Akino says.
Before it's here, it's on the Bloomberg Terminal.
LEARN MORE