Unprofitable Copper Mines Turn to Chile for Help in Price Slump
Matt Craze and Liezel Hill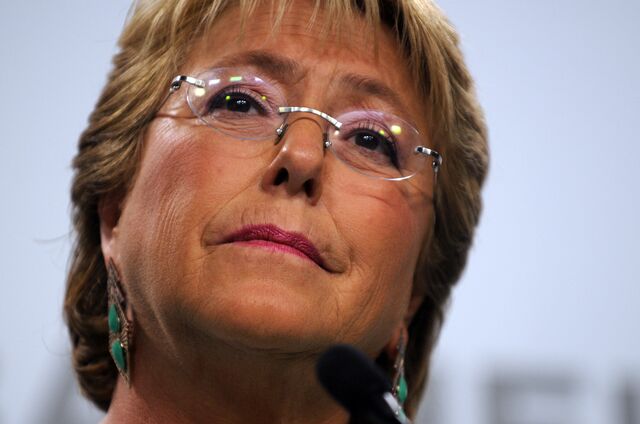 While Chile will consider a cry for help from small copper miners buffeted by slumping prices and rising costs, don't expect too much from a government forecasting a price rebound, Mining Minister Aurora Williams said.
Mario Morales closed his copper mine in the Atacama Desert last month, one of 168 small operators that Chile's mining society estimates shut down in February amid spiraling costs and a sustained price slump. After firing his six workers, the 72-year-old joined a group of miners in Santiago on Feb. 27 to lobby President Michelle Bachelet for an increase in the floor price that triggers the state loans that small miners depend on to survive periods of low prices.
"This mechanism works with a medium term view" of prices, Williams said Sunday in an interview in Toronto. "Small miners are asking to make it higher," which the government will consider, the Minister said.
Small- and medium-scale mines in Chile, the world's largest producer of copper, account for about 3 percent of global output and their demise may help halt the price decline.
"We are on a knife edge," Morales said on the steps of the Moneda presidential palace in Santiago. "This is a crisis caused by costs."
Copper is down 15 percent in the past six months to the lowest levels since 2009. The metal reached a six-week high Monday of $2.72 a pound after China cut benchmark interest rates to spur economic growth. The Chilean government's copper forecaster Cochilco estimates prices will recover to between $2.85 and $3 this year and an average of $2.80 next year.
Price Trigger
The problem for Morales is that loans issued by state smelting company Empresa Nacional de Mineria, known as Enami, only kick in when prices fall below $2.76 a pound. Morales' costs have risen to $2.90 a pound on wage, fuel and steel inflation. The small miners asked Bachelet to raise the floor for financial aid to $3.07 a pound.
Chile's government will study the proposal and weigh other factors such as the drop in oil prices, Williams said through a translator.
"A $3.07 price a few months ago would have been possibly reasonable," the minister said. "But now, with the current situation in the world, it has to be analyzed because we have to consider a medium term vision, not something that is happening right now."
The government is also bringing relief to Chile's small miners by making credit available from Enami to buy new equipment, Williams said. She declined to give a copper price forecast beyond Cochilco's estimates.
Yellow Earth
Morales has mined in the Tierra Amarilla, or Yellow Earth, region of Chile's northern desert for five decades. He last got government help in 2008 when the collapse of Lehman Brothers and Bear Sterns led to a 54 percent price slump.
The quantity of copper contained in Chile's ore has been declining over the past decade, making the country less competitive versus global peers such as neighboring Peru, said Juan Carlos Guajardo, a mining analyst and founder of consultancy Plusmining. Ore grades will decline another 10 percent in the coming decade, he said.
"Chile has been losing competitiveness, so with further price declines thousands of medium and small-sized mining companies will be seriously compromised," Guajardo said.
To be sure, the quality of the deposits held by large-scale miners such as Anglo American Plc and Codelco means Chile will be the biggest producer for years to come, he said.
Los Piqueros
Chile's small miners, known as piqueros, have existed since the South American country supplied copper to England during the Industrial Revolution in the 19th century.
Morales's six-person team lay explosives in the foot of a tunnel deep in the parched hills close to the city of Copiapo. They then shovel ore onto trucks that go to state-owned Enami's Matta copper plant, where it is processed into cathodes and shipped to China to be converted into power cables and electrical wire.
With output of 200 tons a month bearing increasingly less copper content, miners like Morales only thrive on high-price environments such as 2011 when the metal exceeded $4.60 on the Comex exchange in New York. BHP Billiton Ltd.'s Escondida mine, the largest in the world, has costs of less than $1.20 a pound as the mine processes about 375,000 tons a day of ore.
Wider Trend
The shutdowns of small-scale mines are indicative of a wider trend in commodities markets whereby weaker prices put the highest cost producers out of business, said Edward Meir, an analyst at INTL FCStone Inc. in New York. Meir predicts a copper surplus of 180,000 tons this year
"They literally need to go out of business, but we need to see cutbacks for a longer period of time," Meir said. "This should keep a bit of a floor on prices."
Chile is on course to reach production of a record 6 million tons this year, Williams said. Small and medium miners produced 446,000 tons of copper in 2014, 8 percent of Chile's total of 5.75 million tons.
The portion of the total is set to diminish if the government doesn't promptly raise its assistance to the sector, said Morales, who plans to join a protest in the city of Copiapo next week.
"The thing that hurts most is having to face the family group that I employ," Morales said, as he and other miners leave the palace in hope that Bachelet will come to their rescue.
Before it's here, it's on the Bloomberg Terminal.
LEARN MORE