Russia's Worst Post-Crimea Asset Takes U-Turn: Chart of the Day
Matthew Brown and Lyubov Pronina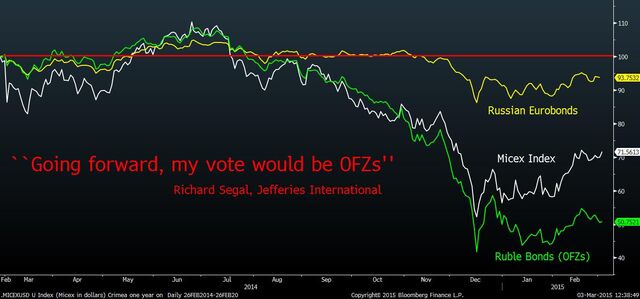 Investors in ruble bonds, stung by the worst losses among Russian assets since the country's incursion into Crimea a year ago, are on course to outdo buyers of stocks and Eurobonds, according to Jefferies International Ltd.
The CHART OF THE DAY shows that local-currency government debt, known as OFZs, lost investors 49 percent in dollar terms in the past 12 months, according to a Bloomberg index. The slide compares with a 29 percent decline in the Micex equities gauge and a 6.4 percent loss for Eurobonds tracked by a separate Bloomberg measure.
That's giving domestic debt a chance to outperform as the central bank starts to unwind a string of interest-rate increases that drove benchmark borrowing costs to an 11-year high of 17 percent in 2014. That rebound is already starting to take place: OFZs returned about 18 percent in February after the key policy rate was cut to 15 percent, a cease-fire in Ukraine showed signs of holding and oil, the country's biggest export, bounced back from a six-year low.
"Eurobonds did better than OFZs because of the spike in local interest rates," Richard Segal, the head of emerging-market credit strategy at Jefferies in London, said by e-mail on March 2. "Going forward, my vote would be on the OFZs, given the interest-rate advantage, plus the possibility that the central bank could ease if inflation expectations stabilize. Equities probably in the middle again, but could be a wildcard to outperform."
The dollar-denominated RTS Index of stocks rose more than all 92 other global benchmarks monitored by Bloomberg in February with a 22 percent advance.
Before it's here, it's on the Bloomberg Terminal.
LEARN MORE