Nebraska Gay-Marriage Ban Struck Down
Andrew Harris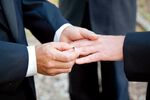 Nebraska's same-sex marriage ban was blocked by a federal judge who ordered state officials to treat gay couples the same as heterosexuals when issuing licenses to wed, starting on March 9.
State Attorney General Doug Peterson said he'll seek to have the order by the judge in Omaha put on hold while he appeals.
Gay marriage is presently permitted in 37 states and the District of Columbia. The U.S. Supreme Court has agreed to consider whether gays couples' right to wed is guaranteed by the U.S. Constitution and will probably rule in June.
U.S. District Judge Joseph Bataillon's order, issued Monday, follows a tumultuous start to same-sex marriage in Alabama, where the chief judge, Roy S. Moore, ordered county officials responsible for issuing marriage licenses to ignore a federal judge's ruling dissolving that state's prohibition. Some of the officials obeyed and others didn't, creating a patchwork legal landscape for gay couples seeking to wed.
The Omaha lawsuit was filed in November by seven same-sex couples. Challenging a voter-approved anti-gay marriage amendment to the state's constitution, they sought the right to wed and recognition of gay marriages legally performed elsewhere.
"The amendment is not somehow insulated from review because it was enacted by a significant majority," Bataillon ruled, concluding it violated the U.S. Constitution.
He framed the state's arguments as a defense of opposite-sex parenting and said those contentions were "rooted in archaic and over-broad" gender stereotypes.
"The state's supposed purpose in channeling children into stable relationships is not served by a same-sex marriage ban," Bataillon said.
The case is Waters v. Ricketts, 14-cv-00356, U.S. District Court, District of Nebraska (Omaha).