Genworth Raises Red Flags Over 'Material Weakness'
Sonali Basak and Zachary Tracer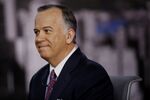 Genworth Financial Inc., the insurer that posted two straight quarterly losses tied to reserve shortfalls at its long-term care unit, said it found a material weakness in its accounting for the coverage.
"We are currently working to remediate the material weakness," the Richmond, Virginia-based company said Monday in its annual filing to the U.S. Securities & Exchange Commission. "We did not have adequate controls designed and in place to ensure that we correctly implemented changes made to one of the methodologies as part of our comprehensive long-term care insurance claim reserves review."
The disclosure adds to challenges for Chief Executive Officer Tom McInerney after the company was stripped of its investment-grade credit rating and shares dropped by half in the 12 months through Friday. An Australia mortgage insurance unit, which the company had highlighted as a strong performer, had its outlook cut to negative by Moody's Investors Service on Feb. 20 after announcing the end of a deal with Westpac Banking Corp.
The insurer said in the filing that it initially failed to identify a $44 million calculation error tied to a review of long-term care reserves. The company said it's working to fix the problem by separating actuarial teams and by expanding the scope of reviews when it changes assumptions or methods. Genworth said it plans to fix the problems this year.
The shares dropped after Genworth disclosed the weakness, losing 5.4 percent to $7.33 at 4:15 p.m. in New York. It was the second-biggest fall in the Standard & Poor's 500 Index.
Quarterly Losses
Genworth posted net losses of $844 million in the third quarter of last year and $760 million in the fourth. The day after the latter report, Chief Financial Officer Marty Klein told investors that the company was assessing its accounting to determine whether there were shortcomings and planned to announce the results in the annual report.
"While we've not yet completed this assessment, we believe this deficiency likely constitutes a material weakness," Klein said Feb. 11.
Long-term care coverage helps pay for home-health aides and nursing home stays. Some customers pay premiums for decades before the insurer knows if it will incur claims costs.
Accounting for the contracts involves periodically reevaluating the percentage of policyholders who submit claims and the cost per person. Lower interest rates also force the company to change profitability assumptions, because they mean that insurers earn less on bonds held to back obligations.
MetLife Inc. and Prudential Financial Inc., the largest U.S. life insurers, also were burned by higher-than-expected costs on long-term care. They stopped issuing new policies, which helped Genworth gain market share.
CEO's Plan
McInerney has been charging more for new policies while seeking regulators' permission to increase rates on coverage sold in prior years.
The CEO has also been cutting jobs and said he may sell assets to shore up the company's finances. The insurer reiterated in Monday's filing that it's pursuing a sale of a so-called lifestyle-protection unit that helps consumers pay debt if they become unable to meet their obligations after an accident or job loss.
McInerney said Feb. 11 that he was working to guard tax benefits tied to past losses as he weighs strategic options.
Before it's here, it's on the Bloomberg Terminal.
LEARN MORE