Elaine Wynn 'Reviewing All Options' After Board Dismissal
Christopher Palmeri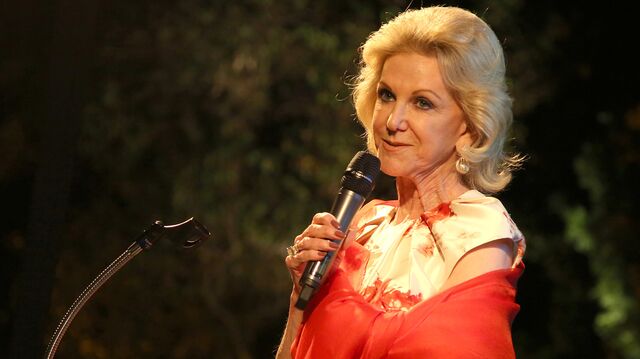 Billionaire Elaine Wynn said she is reviewing all of her options after being removed from the board of Wynn Resorts Ltd., the casino company led by her ex-husband, Chairman and Chief Executive Officer Steve Wynn.
"This news is extraordinarily disappointing," she said in an e-mailed statement, "not just because I, as the co-founder of Wynn Resorts, have devoted my life to making this company a success, but because the decision excludes the last woman director from the board."
Elaine Wynn, 72, has been embroiled in litigation with her ex-husband over her 9.4 percent stake in the Las Vegas-based casino company. The dispute dates back to an agreement the couple had with Kazuo Okada, an early Wynn Resorts investor, that gave Steve Wynn control over shares held by all three.
Elaine Wynn, whose 9.54 million shares are valued at about $1.36 billion, sought to end that agreement in 2012, a move Steve Wynn is fighting. Okada's holding was redeemed by the company in a separate dispute.
Wynn Resorts said in a regulatory filing last week it wouldn't renominate Elaine Wynn. The board cited her lack of independence under Nasdaq-listing standards and the impact of the dispute on "the atmosphere in and effectiveness of her participation on the board."
Elaine Wynn told the company she intends to nominate herself for a board seat at the April 24 annual meeting in Las Vegas if removed, according to last week's filing.
Wynn fell 0.7 percent to $142.43 at the close in New York. The stock has declined 4.3 percent this year.
Board Decision
In an e-mailed statement Monday, Wynn Resorts said its 73-year-old CEO, who holds a 10 percent stake, backed Elaine Wynn's continued service as a director.
"Steve Wynn supported the board candidacy of Elaine Wynn," the statement read, "but the board, as a whole, accepted the recommendations of the nominating and corporate governance committee comprised solely of independent directors to reduce the number of inside directors and to not renominate her."
The company also said it would take diversity into account as it evaluates potential candidates for one or two independent director spots.
Before it's here, it's on the Bloomberg Terminal.
LEARN MORE