Democratic Senator Mikulski of Maryland to Retire
Kathleen Hunter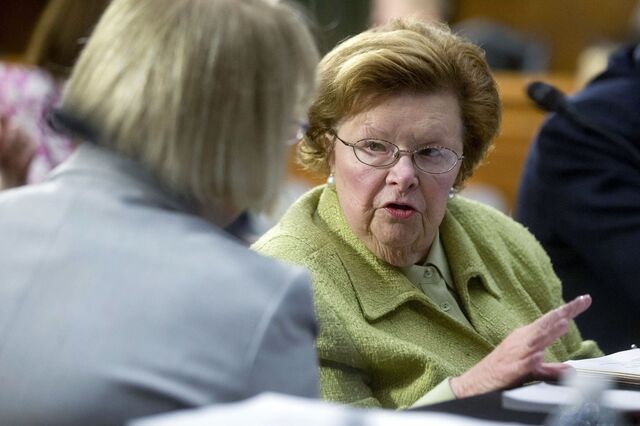 Democratic U.S. Senator Barbara Mikulski of Maryland, a trailblazer for women in Congress, announced Monday she won't seek a sixth term next year.
Mikulski, 78, is Congress's longest-serving woman and the first to be chairwoman of the Senate Appropriations Committee.
"I have thought long and hard about the next two years," Mikulski said in Baltimore in announcing her decision not to seek re-election. "I want to give 125 percent of my time focused on my constituents."
"Do I spend my time raising money or do I spend my time raising hell?" she said.
Mikulski served for a decade in the U.S. House of Representatives before she was elected in 1986 to the first of her five Senate terms. Her retirement would open a political opportunity for a crowded field of potential successors in a state that's historically been a Democratic stronghold.
Former Maryland Governor Martin O'Malley, U.S. Labor Secretary Tom Perez, Baltimore Mayor Stephanie Rawlings-Blake and half the members of Maryland's U.S. House delegation are on the short list of possible Mikulski successors, according to a longtime Democratic strategist.
U.S. Representatives John Delaney, Chris Van Hollen, Donna Edwards and John Sarbanes, the son of former Maryland Senator Paul Sarbanes, are expected to at least consider running. O'Malley is also viewed as a potential 2016 presidential candidate. Delaney said in Twitter post Monday that he would "explore a race for Senate."
Democratic Nominee
Mikulski said she wanted to make the announcement early in the campaign cycle to give Democrats enough time to unify around a nominee ahead of next April's primary.
"Maryland has a lot of talent," she said.
Noting that Republican Larry Hogan won the governor's seat last year, Republicans said they were optimistic that they could pick up the seat.
"While Democrats get ready for a bloody primary, we will have a top recruit waiting for whoever emerges," National Republican Senatorial Committee spokeswoman Andrea Bozek said in a statement.
Montana Senator Jon Tester, chairman of the Democratic Senatorial Campaign Committee, said in a statement that he was confident his party would hold the seat.
Republicans will defend 24 seats in 2016, compared with 10 for Democrats, a reversal from the past two campaign cycles in which significantly more Democratic seats were on the ballot.
Baltimore City
The city of Baltimore and suburban Baltimore County have long been the center of Maryland's political gravity, giving candidates from the metropolitan area an edge over aspirants for statewide office from other regions.
In particular, Maryland's Third Congressional District, which includes parts of the city and its suburbs, has been a springboard for the last three Democrats to represent the state in the Senate.
Paul Sarbanes, Mikulski and Senator Ben Cardin all represented Maryland's 3rd congressional district before their elections to the Senate. The seat is now occupied by the younger Sarbanes.
Baltimore's domination of statewide offices means Van Hollen, Edwards and other Washington-area lawmakers face an uphill battle to win their party's nomination.
The last time a Washington-area House member sought the Senate nomination was 1986. That year, Mike Barnes, a rising star in the ranks of House Democrats like Van Hollen is now, sought his party's Senate nomination after the retirement announcement of Republican Senator Charles Mathias, a western Maryland native who lived in suburban Washington. Barnes lost a multi-candidate Democratic primary to Mikulski.
Appropriations Committee
Mikulski turned over the Appropriations Committee gavel when Republicans took control of the Senate in January. She serves as the top Democrat on the panel.
The tough-talking lawmaker once likened her Republican colleagues to "turkeys." After super storm Sandy in 2012, she said an amendment to a disaster-recovery funding measure by Oklahoma Republican Tom Coburn that would cut money for Alaska fisheries was "phony-baloney nonsense."
Mikulski is a reliable Democrat who supported all of the signature accomplishments of President Barack Obama's first term: his economic-stimulus plan, health-care overhaul, rewrite of financial industry regulations, the federal takeover of the student-loan industry and two Supreme Court appointments.
Mikulski has a long history of backing legislation aimed at improving women's lives. She sponsored the first bill Obama signed into law -- the Lilly Ledbetter Fair Pay Act, which was aimed at making it easier for women to sue for pay discrimination.
Health-Care Overhaul
She successfully added an amendment to Obama's 2010 health-care overhaul guaranteeing women access to preventive health screenings, such as mammograms, at no cost. Mikulski also has backed legislation to promote women in occupations where they are underrepresented.
"Barbara has wielded her gavel and used her booming voice to advocate on behalf of paycheck fairness, child care, health care, education, women's rights and countless issues that have contributed to the strength of America's families," Obama said in a statement.
When she was one of just two women in the chamber, Mikulski recalls a fuss among her male colleagues when she wanted to wear pants on the Senate floor.
'Big Deal'
"What you wore became a very big deal," she told CNN. "For a woman to come on the floor in trousers was viewed as a seismographic event."
Before doing so, she said, she had to alert the majority leader, West Virginia Democrat Robert Byrd, and "the Senate parliamentarian looked at the rules to make sure it was OK."
"You would have thought I was walking on the moon," she said. "It caused a big stir."
The 1992 election added dozens of women to Congress, including five senators, and was quickly dubbed "Year of the Woman." Mikulski was neither amused nor inspired by that label.
"Calling 1992 the Year of the Woman makes it sound like the Year of the Caribou or the Year of the Asparagus," she said at the time, according to the Washington Post. "We're not a fad, a fancy or a year."
Senate Minority Leader Harry Reid called Mikulski, the first woman elected to the chamber from Maryland, a "trailblazer."
Women Leaders
"Through her work, she has helped a generation of women leaders rise in the Senate," Reid, a Nevada Democrat, said in a statement.
Reid also recalled that it was Mikulski who suggested that lawmakers sing "God Bless America" when they gathered on the Capitol steps following the Sept. 11 terrorist attacks.
"It was a poignant moment that I will never forget," Reid said.
House Minority Leader Nancy Pelosi, a California Democrat who earlier served four years as the first female speaker of the House, said in a statement that Mikulski has "been committed to ensuring that public service is open to the next generation of women."
Pelosi, the daughter of former Baltimore Mayor Thomas D'Alesandro, Jr., said it was a "point of personal pride" that she and Mikulski attended the same Catholic girls' high school, the Institute of Notre Dame.
In March 2012, after 35 years on Capitol Hill, Mikulski became the longest-serving woman of the 300 or so who have been elected to Congress. She also has regularly been voted "meanest senator" in Washingtonian magazine's annual survey of congressional aides.
Mikulski is the second veteran Senate Democrat to decide to make this term her last. California's Barbara Boxer also has announced plans to retire.
Before it's here, it's on the Bloomberg Terminal.
LEARN MORE