Deflation Doomsayers Lose Sway Over Debt as Pimco Defects
Anchalee Worrachate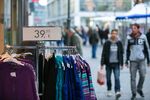 The world's central banks are beginning to convince the bond market that they can beat back the threat of deflation.
At the start of the year, the deteriorating global growth outlook, Europe's protracted malaise and the collapse of oil had investors pricing in the likelihood of little or no inflation for years to come. Euro-area consumer prices matched the biggest drop on record and traders even braced for deflation in the U.S.
Now, that's starting to change.
Pacific Investment Management Co., Invesco Ltd. and Natixis Asset Management are buying bonds that protect against rising consumer prices as confidence builds that the trillions of dollars of central-bank stimulus is finally working.
It's not that they see a sudden surge in prices, but signs of wage growth are emerging in the U.S., Japan and even Germany. And with the European Central Bank about to flood the region with more cheap cash, investors' inflation expectations in developed nations have rebounded from four-year lows.
"Inflation might be low, but it's not dead," Michael Althof, a money manager at Pimco, which runs the world's biggest bond fund and oversees $1.7 trillion, said from Munich. "With all central banks around the world working in the same direction to generate growth and higher prices, the case remains for higher inflation."
Great Expectations
Althof said Pimco favors Treasury Inflation Protected Securities, or TIPS, as well as inflation-linked debt issued by some of the 19 countries that have adopted the euro, including France, Germany and Italy.
Demand for linkers, or bonds that appreciate along with the cost of living, has increased this year as investors anticipate a pickup in consumer prices.
Central banks have been trying everything to spur faster inflation because when prices start to fall and deflation sets in, households may postpone purchases and companies may delay investment and hiring as demand for their products dries up.
For the developed world, a measure of inflation expectations based on bond yields rose in both January and February to reach 1.28 percent on Feb. 27, data compiled by Bank of America Corp. show. The rebound snapped an unprecedented eight-month slide that had investors bracing for inflation of less than 1 percent for the first time since September 2010.
The market's outlook for U.S. inflation over the next five years was at 1.62 percent as of 3:55 p.m. in New York, from as low as 1.04 percent in January, the least since 2009.
Inflation Metric
A similar bond metric for Germany rose to 0.26 percent, the highest this year on a closing basis, from a record low of minus 0.43 percent in January. At the time, that meant investors were pricing in the probability that Europe's largest economy would be plagued by deflation for the rest of the decade.
Euro-area consumer prices fell less than economists forecast last month, declining 0.3 percent, according to data released by the European Union's statistics office on Monday.
Part of the turnaround has to do with oil stabilizing after an almost 50 percent plunge in the last six months of 2014. In February, oil had the first monthly gain since June.
The decline in U.S. consumer prices in January probably marks the last month the freefall in crude oil weighed on inflation, according to a JPMorgan Chase & Co. note on Feb. 26.
Stripping out energy and food, U.S. inflation rose more than economists forecast from the previous month, supporting Federal Reserve Chair Janet Yellen's testimony that the damping impact of oil is "transitory."
Transitory Effect
At the same time, lower energy costs will ultimately lead to higher consumer spending and boost global growth, according to Invesco.
"The market has become too pessimistic about the inflation outlook," Mark Nash, a senior money manager at Invesco, which oversees $786 billion, said from London. "We see falling commodity prices as a stimulus for consumers."
Nash said Invesco began buying linkers in December after avoiding them most of last year. The firm prefers TIPS due in 10 years or longer, as well as Italian and French linkers.
Just as important are signs the $10 trillion that major central banks injected into their economies during the past seven years is finally producing the kind of growth that will boost inflation back toward target levels.
Average hourly U.S. earnings rose in January by the most since 2008, while wages in Japan had the biggest jump in five months in December.
'Right Time'
Wal-Mart Stores Inc., the largest private American employer, said last month it will hand out raises, paying all its U.S. hourly employees at least $9 an hour by April and $10 an hour by next February. Engineering workers in southwest Germany also won a 3.4 percent pay increase.
HSBC Holdings Plc's Steven Major, one of the few forecasters who got the bond market right in 2014 by predicting it would rally, says the nascent wage increases will lay the groundwork for stronger growth and gradual price gains.
"We are not saying inflation will be shooting up but expectations could be rising from here," Major, HSBC's head of fixed-income research, said from London. "It's the right time to buy inflation bonds."
Linkers from major issuers from the U.S. to Italy and Australia, have risen 1.9 percent this year, outpacing returns on fixed-rate bonds, which aren't shielded from price gains, data compiled by Bank of America show.
That's a reversal from the last six months of the year, when inflation-linked debt underperformed.
Too Low
Jim Kochan, the chief fixed-income strategist at Wells Fargo Asset Management, doesn't see the point in buying inflation protection, particularly when globalization will keep a lid on price pressures and labor costs.
U.S. workers' earnings are rising at a slower pace than 2007, before the worst recession since World War II began.
This year, inflation in 10 major developed nations will reach 0.41 percent, forecasts compiled by Bloomberg show. That would be the second-lowest reading in at least two decades.
"If inflation is going to be this low, it raises a question why any investors should own linkers," Kochan, whose firm oversees $496 billion, said by telephone from Menomonee Falls, Wisconsin. "I'd sell them."
The inflation outlook will continue to improve as easy money policies by central banks worldwide cause their currencies to depreciate against the dollar, particularly as the Fed prepares to raise interest rates, according to Axel Botte, a strategist at Natixis in Paris.
His company favors European linkers and long-dated TIPS.
The ECB will start a 1.1 trillion euro ($1.23 trillion) bond-buying program this month, its most aggressive push yet to stamp out the specter of deflation. The purchases, expanded to include sovereign debt, will also include linkers.
"The idea of currency war is something that should be favorable to index-linked bonds by way of raising inflation expectations," Botte said.
Before it's here, it's on the Bloomberg Terminal.
LEARN MORE