Dallas Nurse Who Had Ebola Sues Hospital Where She Worked
Andrew Harris and Tom Korosec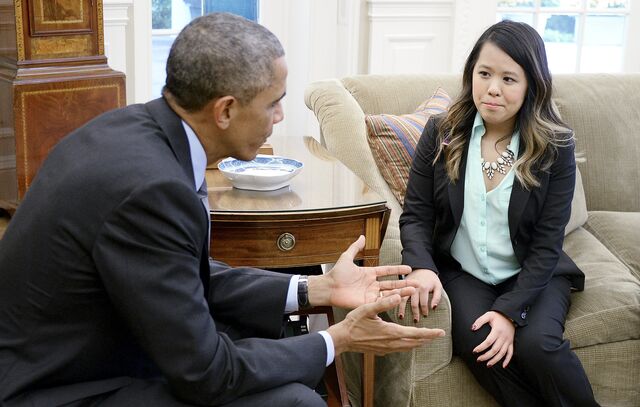 A nurse who contracted Ebola while treating a man who died from the virus sued the operator of the Dallas hospital where she worked for failing to protect her from the contagion.
Nina Pham and another Texas Health Presbyterian Hospital Dallas nurse, Amber Vinson, developed Ebola after caring for Thomas Eric Duncan, a Liberian who died in October from the blood-borne pathogen that causes severe bleeding and organ failure.
Pham, in a lawsuit filed Monday in state court in Dallas, accused hospital operator Texas Health Resources Inc. of ignoring U.S. Centers for Disease Control guidance on how to handle infected patients and protect those caring for them. She also said the company compromised her privacy while she was ill.
"I was hoping that THR would be more open and honest about everything that happened at the hospital and the things they didn't do that led to me getting infected with Ebola," Pham said in a statement accompanying the complaint. "I felt I was left with no choice but to turn to the courts for help."
Almost 10,000 people have died in the most-recent outbreak of the sickness, which started last year in the western African nations of Liberia, Sierra Leone and Guinea, according to the U.S. Centers for Disease Control and the World Health Organization.
Sierra Leone
Among the casualties was a bodyguard to Sierra Leone's vice president, Samuel Sam Sumana, who is now quarantined.
More than 14,000 people who were infected have survived. New cases continue to be reported. On average, the disease is fatal to about 50 percent of those who get it, according to the World Health Organization.
Pham and Vinson were part of the first medical staff to treat a confirmed case of Ebola in the U.S.
Once diagnosed, Pham was transfered from the Dallas hospital to the National Institutes of Health Clinical Center in Bethesda, Maryland, and placed in a special isolation unit.
Emory University
Vinson was treated at the Emory University hospital in Atlanta and also recovered.
Pham, who told reporters upon her release that she felt "fortunate and blessed," later met with President Barack Obama and U.S. Health and Human Services Secretary Sylvia Matthews Burwell at the White House.
Duncan, who died Oct. 8, has been the only Ebola fatality in the U.S. He is one of four people to have been treated in the U.S. after a confirmed diagnosis. More than 400 people were monitored by the CDC after suspected exposure.
Pham said she's suing to "help uncover the truth of what happened," and to educate health-care providers and administrators. Claiming she's suffered physical pain and mental anguish and expects to need future medical care, she's seeking unspecified compensatory and punitive damages.
"Nina Pham served very bravely during a most difficult time as we all struggled to deal with the first case of Ebola to arrive in a U.S. hospital emergency room," Wendell Watson, a spokesman for Texas Health, said in an e-mailed statement. "As distressing as the lawsuit is to us, we remain optimistic that we can resolve this matter with Nina."
The Arlington-based health care company has 24 owned, operated or affiliated acute-care and short-stay hospitals, primarily in 16 north-central Texas counties, according to its website.
The case is Pham v. Texas Health Resources Inc., DC-15-02252, Dallas County, Texas, District Court (Dallas).
Before it's here, it's on the Bloomberg Terminal.
LEARN MORE