Americans Spend Some of Fuel Boon as Savings Rise: Economy
Shobhana Chandra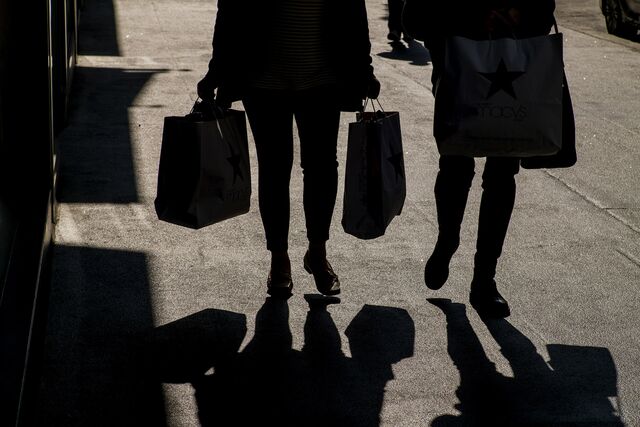 American consumers are treating the windfall from the plunge in fuel prices judiciously -- spending some and saving the rest -- signaling the boost to economic growth will be long-lasting.
Purchases adjusted for inflation rose 0.3 percent in January after falling 0.1 percent the prior month, according to Commerce Department data issued Monday in Washington. Another report showed manufacturing expanded at a slower pace in February, limited by a work stoppage at West Coast ports and slower growth abroad.
Receipts at electronics merchants, restaurants, movie theaters and grocery stores were among those benefiting as cheaper gasoline helped household finances. Meanwhile, the improving job market also padded paychecks, giving workers the opportunity to sock away money that can be used down the road to lift spending when fuel prices stabilize.
"The consumer picture's in pretty good shape right now," said Gus Faucher, senior economist at PNC Financial Services Group in Pittsburgh. The increase in spending and simultaneous gain in saving is "good news for both the near term and over the longer run."
Stocks rose as gains in consumer purchases signaled strength in the biggest part of the economy. The Standard & Poor's 500 Index climbed 0.6 percent to a record 2,117.39 at the close in New York. The S&P Consumer Discretionary Index advanced 1.2 percent.
Manufacturing Cools
A report from the Tempe, Arizona-based Institute for Supply Management showed its manufacturing index dropped to 52.9 in February, the lowest since January 2014, from 53.5 a month earlier. Readings greater than 50 indicate growth and the median forecast in a Bloomberg survey of economists was 53.
Purchasing managers from transportation equipment makers to food producers said the work stoppage at West Coast ports was affecting supply chains and increasing costs, the ISM survey showed. The dispute over a dockworkers' contract has since been resolved and the nation's two busiest seaports -- Los Angeles and Long Beach -- are working through their biggest backlog of ships in a decade.
"It's certainly likely to take a few weeks to clear the whole mess out," Bradley Holcomb, chairman of the ISM factory survey, said on a conference call with reporters. "It's obviously been a growing, growing concern." The resolution of the port situation probably will mean "things will normalize within the next month or so."
Nominal Spending
The Commerce Department's report showed so-called nominal spending, which doesn't take into account changes in price, declined 0.2 percent, exceeding the 0.1 percent drop that was the median forecast of economists surveyed by Bloomberg. The reading was depressed by a 0.5 percent plunge in the cost of goods and services, the biggest in six years that reflected the decrease in energy costs.
Incomes grew 0.3 percent for a second month, led by a 0.6 percent gain in wages and salaries. Disposable income, or the money left over after taxes, climbed 0.9 percent after adjusting for inflation, the biggest jump since December 2012.
The increase in earnings and drop in nominal spending lifted the saving rate to 5.5 percent, also a two-year high.
Adjusting consumer spending for inflation, which generates the figures used to calculate gross domestic product, purchases of durable goods rose 0.2 percent in January, paced by demand for televisions and computers. Sales of non-durable goods also climbed 0.2 percent on food and gasoline.
Dinner, Movie
Outlays on services increased 0.4 percent, the most since September, as colder temperatures led to greater use of utilities. More Americans also sprung to go out to dinner and a movie, in addition to health care.
"We expect consumer spending to come in stronger in coming months," said Laura Rosner, a U.S. economist at BNP Paribas SA in New York and a former New York Fed researcher. "Consumers have received the income and are boosting their saving right now. The income picture is really promising. That bodes well for consumer spending over the medium term."
The economy expanded at a 2.2 percent annualized rate in the fourth quarter, Commerce Department figures showed on Feb. 27. Consumer purchases grew at a 4.2 percent rate, the fastest since 2010.
The plunge in energy expenses restrained the measure of inflation based on consumer spending, the Federal Reserve's preferred gauge. It rose 0.2 percent from a year earlier, the smallest 12-month gain since October 2009. The gauge hasn't been above the central bank's 2 percent goal since March 2012.
Inflation Gauge
The core price measure, which excludes food and fuel, rose 0.1 percent from the prior month and was up 1.3 percent from January 2014, the same as in December.
There was also news on inflation from overseas. Euro-area consumer prices fell less than economists forecast last month, offering some relief to the European Central Bank as it prepares to put its unprecedented bond-buying program into action.
Another U.S. report on Monday showed spending on construction projects dropped 1.1 percent in December following a 0.8 percent gain the prior month that was larger than previously estimated, according to Commerce Department figures. The decrease was led by declines in building among non-residential companies and government agencies. Homebuilders showed an increase.
Home-improvement retailers Lowe's Cos. and Home Depot Inc. reported fourth-quarter profit that topped analysts' estimates as a boom in remodeling propels sales.
"Clearly it is a positive thing when a customer has more disposable income in their pocket," Craig Menear, Home Depot's chief executive officer, said on a Feb. 24 earnings call.
Before it's here, it's on the Bloomberg Terminal.
LEARN MORE