California GOP Extends Recognition to Log Cabin Republicans
It's the first such move by a state Republican party, an official says.
By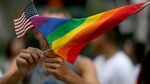 A group of gay Republicans in California won recognition by the state GOP on Sunday in what the Los Angeles Times called a "historic break" with the past.
It's the first such move by a state Republican party, according to Gregory T. Angelo, the national executive director of Log Cabin Republicans, and comes as the California GOP seeks to reverse a losing streak at the ballot box.
On the national level, the group clashed with organizers of the Conservative Political Action Conference last month over allegedly being prevented from sponsoring the event (which organizers denied). And in California, the measure was not without dissent.
"I have a hard time understanding how we're going to charter an organization that's in opposition to our platform" when it comes to same-sex marriage, said California Republican Assembly President John Briscoe, according to the Times.
But the measure ultimately passed by a wide margin, 861-293. Now, the group says it is looking to other state Republican parties that could follow suit.
"State parties are unique, and not all of them have a formal 'chartering' process like California," Angelo said in an e-mailed statement. "For those states that do, we encourage them to follow the California Republican Party's lead and recognize that Log Cabin Republicans has an important role to play in winning GOP victories nationwide."