Winter Weather Ties Up Air Traffic, May Bring Record to Boston
Brian K. Sullivan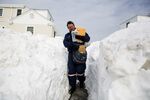 Winter weather that has tied up air traffic in the Dallas-Fort Worth area is forecast to spread eastward across a large part of the U.S., likely delivering a record amount of snow to Boston this season.
The city, which is 5.6 inches (14.2 centimeters) from tying an all-time snowfall record, may get 4 to 6 inches by Monday, the National Weather Service said. New York may get as much as 5 inches, while Philadelphia picks up 3 inches and some ice.
"By Monday morning, Boston will probably have a record amount of snow for a winter," said Bob Oravec, a U.S. Weather Prediction Center meteorologist in College Park, Maryland. Eight and a half feet has fallen to date in Boston, and Oravec said the record will be reached later in the week -- if not by Monday -- when more snow is forecast.
Winter storm warnings and weather advisories stretch from central Texas to the Massachusetts coast and include St. Louis, Washington, Philadelphia, New York and Boston.
From Washington to New York, the snow and ice will probably be over by the time people head back to work Monday, Oravec said. In Boston, it should just be ending. Farther to the west, the winter precipitation will end late Sunday.
Snow, sleet and freezing rain have plagued the U.S. South, closing schools, slowing traffic and canceling thousands of flights, especially at Dallas/Fort Worth International Airport. As of 8 a.m. New York time, 903 Sunday flights across the U.S. were canceled, the majority of those at Dallas/Fort Worth, according to FlightAware, a Houston-based airline tracking company.
102 Inches
In Boston, 102 inches of snow has fallen this season, with 96.5 inches coming since Jan. 23, the weather service said. A record 107.6 inches fell in the winter of 1995-1996.
The snow has led to delays and service cuts on the Massachusetts Bay Transportation Authority's bus, subway and commuter rail lines.
Commuter rail service to Boston may not be fully resorted until March 30, the authority said on its website.
Oravec said there isn't a single large storm bringing the snow, ice and sleet across the U.S.
"We're getting a lot of winter weather on what looks like a marginal event because of all this cold air," he said. "We've had that for the past few situations."
In New York's Central Park, temperatures were below normal for 26 of February's 28 days, the weather service said. Washington's Reagan National Airport posted 21 days of below-normal readings; Dallas had 18 days; Chicago, 24; and Boston had 27.
Temperatures may reach the high 40s Fahrenheit (7 to 9 Celsius) in Boston and New York and the mid-50s in Philadelphia and Washington by Wednesday, the weather service said. Readings are forecast to fall after that.
There is a 60 to 80 percent chance below-normal temperatures will return from Texas to New England through March 6 to 10, said the Climate Prediction Center in College Park.
Before it's here, it's on the Bloomberg Terminal.
LEARN MORE