Iran Builds Ties With Yemen's Houthis as GCC Moves Embassies
Mohammed Hatem, Nafeesa Syeed and Glen Carey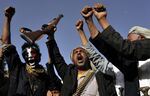 Yemen's Shiite Muslim Houthi group is boosting ties with Iran shortly after Sunni Gulf Arab monarchies moved their embassies to a southern port city to back the government of President Abdurabuh Mansour Hadi.
An Iranian flight carrying medical supplies arrived in Sana'a, the capital controlled by the Houthi movement, on Sunday, a day after the two countries signed an aviation agreement, al-Masirah television reported. Saleh al-Sammad, an official with the group, is also leading a delegation to Tehran to discuss political and economic cooperation. Before the announcements, there were scarce signs of overt cooperation between Iran and the group.
Yemen is emerging as the latest ground for a proxy confrontation between Saudi Arabia, the world's top oil exporter that backs Hadi, and Shiite Iran, where officials have expressed support for the Houthi group. The two countries are on opposite ends of the civil war in Syria, with Saudi Arabia backing the mainly Sunni rebels against President Bashar al-Assad, who has Iranian support. Saudi Arabia classifies the Houthi movement as a terrorist organization.
If the conflict between Yemen's political groups isn't resolved peacefully, the country "will become a zone for proxy war between Iran and the Saudis," said Nadwa Al-Dawsari, nonresident senior fellow at Project on Middle East Democracy in Washington, said in an e-mail. That would be "very bad news for Yemen," she said.
House Arrest
The Houthis, who say they have been victims of government discrimination for decades, advanced from their northern base to capture Sana'a last year. Since then, al-Qaeda and Sunni tribal fighters have stepped up attacks against the group throughout the country. Talks sponsored by the United Nations have failed to defuse the crisis, which worsened after the Houthis put Hadi under house arrest.
The president fled the capital last month and has sought to rally domestic and international support for his government in Aden, a southern port city. Gulf Cooperation Council nations, including Saudi Arabia and the United Arab Emirates, said they have moved their embassies there.
"Yemen is effectively split," said Charles Schmitz, a Yemen expert at Towson University in Maryland. While the Houthis control the north, Hadi's authority in the south is "is tenuous" due to the presence of al-Qaeda and some forces loyal to former President Ali Abdullah Saleh, he said.
For Iran, building ties with the Houthis, who follow the Zaydi branch of Shiite Islam, expands its influence in the Arab world, with allies spanning Lebanon, Syria and Iraq, said Kamran Bokhari, an adviser for Middle Eastern and South Asian affairs at Texas-based consulting firm Stratfor.
'Geopolitical Expansion'
"What really worries the GCC states is this Iranian geopolitical expansion in the region comes at a time when the Arab world is in turmoil," he said in a phone interview.
Under the terms of the aviation deal, Iran Mahan Air and Yemen Airways can each operate 14 flights a week between the two countries, the Saba news agency reported on Saturday.
"That's unprecedented," said Sheila Carapico, a political science professor who studies Yemen at the University of Richmond in Virginia. "This is a significant move if there are to be that many regular flights and that much direct interaction between Sana'a and Tehran."
Majed al-Saqqaf, Hadi's press secretary, said the agreement isn't binding to the Yemen government as it was signed by a group that has no legal identity in the country.'' "This agreement is not between Yemen and Iran but between Tehran and a rebel group," he said by phone.
The Libya Scenario
The tension between the Houthis and Hadi's government has raised the prospect of Yemen disintegrating like Libya, where two rival governments and their militias are fighting for control of cities, airports and oil fields. The Houthis seized most of Sana'a in September, and marginalized Saudi-backed Hadi after seizing the presidential palace in January.
The Houthis are "confronting Gulf pressure" and the economic and political isolation they are facing by strengthening ties with Iran, Majed al-Mathhaji, an independent analyst based in Sana'a, said in a phone interview. A closer relationship will have little "economic impact" since Iran has its "own domestic financial problems due to the decline in international oil prices," he said.
Before it's here, it's on the Bloomberg Terminal.
LEARN MORE