Before Netanyahu Speaks, AIPAC Gives Thanks for An Aggressive Congress
Senator Lindsey Graham says he'll be "in the front row" when the Israeli prime minister speaks.
By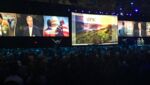 "Thank goodness for Congress!" said Howard Kohr, the CEO of the American Israel Public Affairs Committee.
Applause filled the Washington Convention Center, from thousands of people attending AIPAC's annual policy conference. In the Obama years, AIPAC's show of force in Washington often overlapped with a moment of tension or scandal in the relationship between the president and the Likud government of Israeli Prime Minister Benjamin Netanyahu. This year's conference coincides with Netanyahu's speech to a joint session of Congress, which originated in conversations with the Republican leadership—not, as is the norm, via conversations with the White House.
The controversy has gripped Washington for weeks, pointing unwelcome attention on Netanyahu's government, his country's March 17 election, and the increasing disquiet about Israel on the American left. AIPAC's opening plenary, always a dazzling show of video and music beamed around a cavernous convention space, dealt bluntly with the controversy while assuring supporters and members of the lobbying group that everything was going to work out. Screens playing the main events onstage were bracketed by rotating pictures of inspirational photos of Israel, and slogans like "This is Hope," "This is Resilience," and "This is Diversity."
(The contrast with the just concluded CPAC conference, which ended in a long period of confusion about when the straw poll would come out, is especially stark this year.)
That was the theme of Kohr's remarks, which were delivered in a friendly conversation with AIPAC managing director Richard Fishman. Kohl's praise of Congress came in the context of praising how legislators (he did not name them, but many would appear at the conference) pushed when the White House might not have, "Congress time and time again has led the effort to put pressure on the regime in Iran," Kohr told Fishman and the audience. 
Still, whenever he could, Kohr argued that AIPAC could pressure the administration through Congress without truly worrying the relationship between the United States and Israel. "Many journalists have written the story that this is a relationship in crisis," said Kohr. "This is not a crisis. Frankly, it's up to us to not let it become a crisis."
AIPAC organizers emphasized that point by bringing South Carolina Republican Senator Lindsey Graham and Maryland Democratic Senator Ben Cardin onstage, to trade lines about how ready Congress was to united behind Israel.
"The circumstances surrounding the invitation [to Netanyahu] were not what they should have been. We all understand that. But don't lose focus. The bad guy is Iran," Cardin said, and applause echoed around the room. "Iran is who's violating international agreements. The focus must be on the Iranian negotiations," Cardin continued. "This gives us a chance to come together in a strong, united way to make sure we are focused on what is necessary from an acceptable deal with Iran. Secondly, we can never allow Israel to become a political wedge issue. It's too important to the United States."
Graham one-upped Cardin as only a member of the party with no speech-boycotters could: "I will be there in the front row," Graham crowed. 
The Netanyahu drama, which will hang over the entire week, mostly emphasized how much support Israel otherwise had in Washington. "We have spent many active hours lobbying for members of the House and Senate to attend this speech," said Kohr.
Cardin won more applause by telling the AIPAC crowd about legislation "coming this week" to use trade negotiations to penalize countries that boycotted, divested from or sanctioned Israel. Graham, newly empowered as a member of the Senate majority, one-upped Cardin again.
"All the money that goes in to support the State Department comes through my committee," said Graham. "I'm gonna put the United Nations on notice." If the U.N. "marginalized" Israel in anyway way, he'd come after its funding.
The commonality in all of these remarks—from Graham, from Cardin, from Kohr—was that Congress needed to embrace its role if the Obama administration cut a deal with Iran. "The congressional role doesn't end when there's a deal," said Kohr. "Congress must review this deal."
The limits of this pitch in an increasingly partisan atmosphere became clear as the morning went on. At one point in the opening session, Fishman and Kohr insisted that supporters of Israel could support cutting off aid to Palestinians without truly disrupting America's policy.
"The point of suspending aid is not punitive," said Fishman.
"No, it's just meant to be a suspension," said Kohr. "It gives [Palestinian authority President Mahmoud Abbas] the opportunity to come back, for him make the choice we want him to make."
Later, in a breakout session about the sanctions debate, California Democratic Representative Brad Sherman warned AIPAC members that the fight over Netanyahu's speech had hardened some Democrats' positions, and made it less possible to override the administration where it clashed with Israel.
"It has gotten personal and partisan, and so it has gotten much more difficult for me to go to Democrats," said Sherman. "Now that it's gotten personal, and back home they view this as a personality contest between the president and prime minister Netanyahu, they say: Guess who I'm going to side with?"
That would limit the ability of Congress to actually apply sanctions to Iran that went above what the administration wanted. "It's hard for people in districts where the president got 60, 70, 80 percent of the vote to vote against Obama's position on sanctions now that it's such a personal, high profile issue," said Sherman. "My guess is that Congress does not pass additional sanctions over a presidential veto."