Slow Growth, Low CPI Come Up Short for South Africa Bonds
Xola Potelwa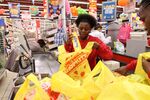 Sluggish economic growth, inflation at a four-year low and no interest rate increases on the horizon should be a mix that's good for bonds.
Not in February in South Africa, where new fuel taxes, the prospect of higher electricity rates and a drought that is driving up food prices are adding to headwinds for bonds already sagging amid concern the Federal Reserve is set to start raising interest rates. Investor inflation expectations over the next five years have been climbing since hitting a more than 2 1/2-year low in January.
Rand government securities lost 2.74 percent last month, the worst outcome in more than a year, according to Bank of America Merrill Lynch bond data. The average of 54 local-currency emerging-market bonds was a loss of 0.1 percent in the period, Bloomberg indexes show.
"It's still a bit of a risky outlook for bonds, at least in the short term," Sean McCalgan, head of real-time research at ETM Analytics, said by phone from Johannesburg on Feb. 27. "There are a number of risk factors looking further into the year on the inflation front. That has been priced in to some degree by the market together with these lingering concerns around the Fed rate outlook."
Yields on benchmark rand bonds due December 2026 climbed two basis points to 7.64 percent by 3:15 p.m. in Johannesburg after increasing 49 basis points last month, the most after Turkey among 24 developing nations, according to data compiled by Bloomberg.
Fuel Levy
Consumer inflation will probably average 4.3 percent this year, Finance Minister Nhlanhla Nene said in his annual budget presented to lawmakers on Feb. 25. The South African Reserve Bank said in January the rate would average 3.8 percent.
An increase in the fuel levy announced by Nene, which comes into effect on April 1, may add as much as 25 basis points to the inflation rate, according to Standard Bank Group Ltd. The finance minister also increased a levy on electricity usage and said he would support higher tariffs for Eskom Holdings SOC Ltd., the state-owned utility, while lowering projections for 2015 economic growth to 2 percent from a previous forecast of 2.5 percent.
The yield difference between five-year fixed-rate bonds and similar-maturity inflation-linked securities, a measure of investor expectations for inflation over the period known as the break-even rate, climbed 47 basis points in February to 5.4 percentage points. Foreign investors sold 11 billion rand ($960 million) of South African bonds in the month to Feb. 27, the most since November, according to Johannesburg Stock Exchange data.
With South African yields now fourth-highest among 24 emerging markets monitored by Bloomberg, investors may return to the debt, according to Michael Keenan, a strategist at Barclays Africa Group Ltd.
'Significant Correction'
"I'm quite constructive on bonds in the first half of this year," Keenan said by phone from Johannesburg on Feb. 27. "We have had quite a significant correction in February, so I think at these kind of levels you are going to get locals and potentially foreigners coming back in."
Rising bond issuance to meet redemptions of about 439 billion rand over the next six years may also put pressure on yields. Borrowing in the current fiscal year will be 14 percent higher than projected a year ago, the National Treasury said in last week's budget.
With corn prices surging as much as 64 percent over the past seven months, bond yields may have bottomed when they reached a 20-month low on Jan. 29.
"I don't think the full extent of the changes affecting inflation were priced in," Jonathan Myerson, who helps manage the equivalent of about $2.23 billion at Cadiz Asset Management Ltd., said by phone from Cape Town on Feb. 27. "The market ran way ahead of itself."
Before it's here, it's on the Bloomberg Terminal.
LEARN MORE