Aussie Failure to Drop on Cut Signals Another One May Come Soon
Michael Heath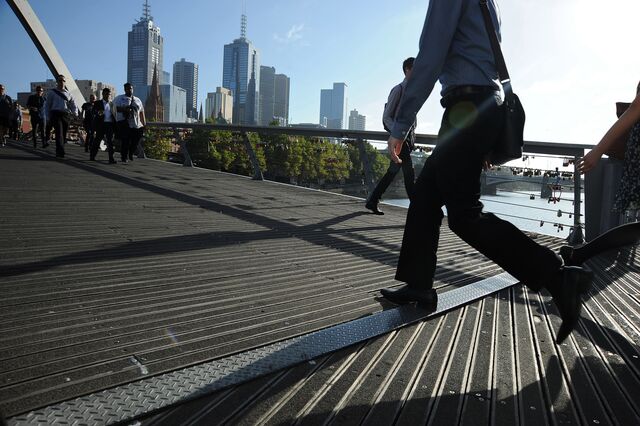 Australia's central bank will consider cutting interest rates on Tuesday to hold down a currency whose resilience threatens to upend any hopes of an economic recovery.
Traders are pricing in a 60 percent chance the Reserve Bank of Australia will lower the 2.25 percent cash rate to a record 2 percent, swaps data compiled by Bloomberg show. Eighteen of 29 economists in a Bloomberg News survey predict a cut. RBA board member John Edwards said in a Feb. 17 interview that "an even lower dollar" would be useful as the currency posted its first monthly gain since October.
Policy makers are seeking to bring down unemployment from a 12 1/2-year high after business spending slumped in an economy struggling to find new avenues of growth as miners curb expansion. RBA Governor Glenn Stevens's global counterparts are easing to counter global disinflation, threatening to drive up the Aussie further and hurt domestic industries.
"The outlook for non-mining investment is bleak," said Riki Polygenis, co-head of Australian economics at Australia & New Zealand Banking Group Ltd., which forecasts a cut for Tuesday. "The weak outlook will provide further confirmation to the RBA that the economy needs further stimulus and we continue to expect another near-term rate cut."
The urgency is underscored by the almost 50 percent collapse last year in the price of iron ore, which generates A$1 in every A$5 of export income.
China Concern
China, Australia's biggest trading partner, cut interest rates on Saturday before a yearly gathering of the Asian nation's leadership. Economists expect Premier Li Keqiang to announce a growth target of around 7 percent for 2015, down from 7.5 percent last year.
The Australian dollar was at 77.81 U.S. cents as of midday in Sydney, up about 2 percent from the 5 1/2-year low of 76.26 it reached shortly after the February cut. The central bank has said the Aussie remains above its fundamental value and needs to depreciate further to aid the economy's transition away from mining investment.
The Aussie has dropped 30 percent since its $1.1081 peak in July 2011 and the RBA's Edwards would welcome more losses.
"The lower dollar's been helpful," he said. "I think that will continue to be useful for us and an even lower dollar even more useful. A sufficient number of businesses have not yet been convinced that there are profitable opportunities to invest in a bigger way than they are now."
Animal Spirits
Stevens repeated last month that he wants to spark "animal spirits" to encourage investment. Edwards said economic growth is currently less than its potential rate above 3 percent. "We know that because unemployment is still going up," he said.
Gross domestic product probably rose 2.6 percent in the final three months of 2014 from a year earlier, economists predicted ahead of the Feb. 4 release of national accounts data.
Australia is on track to record an expansion below its economic potential for six of the past seven years, the longest stretch since the nation's last recession in 1991. The RBA has little to worry about in terms of inflation, after data last week showed wages growth matched the weakest level on record.
A private gauge from TD Securities Monday showed consumer prices climbed an annual 1.3 percent in February, the weakest reading since October 2009. A separate gauge of manufacturing fell 3.6 points to 45.4 last month, the lowest in 10 months.
Weaker Profits
Even with record-low interest rates, Woolworths Ltd., Australia's largest supermarket chain, posted first-half profit that missed estimates and cut its full-year forecast. Net income fell 3.1 percent to A$1.28 billion ($1 billion) in the six months ended Jan. 4 from a year earlier, it said Feb. 27.
Government data today showed company profits and inventories unexpectedly fell in the final three months of last year from a quarter earlier.
One reason for Stevens to pause is that further stimulus risks fueling a property bubble in Australia's biggest city. Housing auctions in Sydney in the week ending Feb. 22 saw a near-record 88 percent of properties put up for auction sold, compared with about 78 percent a week earlier, according to CoreLogic RP Data. Prices in Sydney climbed 13.7 percent in February from a year earlier, data showed Monday.
Canberra Infighting
Stevens's task hasn't been helped by the government in Canberra, where Prime Minister Tony Abbott faces the kind of internal fighting over his leadership that saw the opposition Labor Party evicted from office in September 2013. Europe is also due to begin its quantitative easing program this month that may drive funds into Australia.
The RBA has said some of the local dollar's resilience has been driven by demand from foreign investors including global central banks for notes that offer the highest yields among global sovereign debt. Even after its yield dropped to an all-time low 2.25 percent last month, Australia's 10-year note still offers a premium of more than 1.5 percentage points over the average for other AAA rated governments.
"We do not think that monetary policy has reached the point where it has no ability at all to give additional support to demand," Stevens told a parliamentary panel in Sydney Feb. 13. "Our judgment is that it still has some ability to assist the transition the economy is making, and we regarded it as appropriate to provide that support."
Before it's here, it's on the Bloomberg Terminal.
LEARN MORE