Rand Paul Wins 2015 CPAC Straw Poll
The conservative-vs.-establishment race gets underway.
By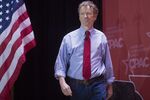 For the third consecutive year, Kentucky Senator Rand Paul grabbed a victory in the Conservative Political Action Committee's presidential straw poll. Paul won 25.7 percent of the 3,007 votes cast, down slightly from 2014, when 2,459 total attendees gave him 31 percent of the vote. Wisconsin Governor Scott Walker, who placed fifth in 2014's poll, floated to a strong second place– 21.4 percent–continuing a run of successes with conservative activists that started last month at the Iowa Freedom Summit.
The days of potential presidential candidates barreling into CPAC with full campaigns, buying up blocks of tickets for straw-poll voters, are largely past. Paul, Walker, Ben Carson, Rick Santorum, Rick Perry, and Texas Senator Ted Cruz all had street teams of various sizes; Paul was supported by Young Americans for Liberty, Carson by an unofficial draft presidential campaign. But Santorum, Walker, and Paul focused more on barnstorming events in the conference hotel than on making an obvious show of support on the convention floor. (Though anyone walking into the CPAC rooms when Carson, Santorum, or Cruz spoke was greeted by friendly volunteers bearing campaign or PAC stickers.)
Still, opponents of Jeb Bush spent some of Saturday fretting about the Republicans who admitted hiring a few buses and buying a few passes for supporters. All day, a story about the scheme–freely admitted by former George W. Bush advance man Fritz Brogan–owned the front page of Breitbart.com, a CPAC sponsor.
They could not quite match the enthusiasm for Paul, whose fans made themselves known all weekend with cheers and jeers–for Bush, for any mention of New Jersey Governor Chris Christie.
"Rand believes in limited government," said Charles Barr, a student at New Jersey's Montclair State University, walking the convention clad in one of the omnipresent STAND WITH RAND shirts provided by Young Americans for Liberty. "I knew I was voting for Rand when I came here; I actually picked Rand Paul for my second choice, too."
Supporters of Walker said they'd been won over more recently. "This was a really hard choice," said Jake Scornavacco, a student and frozen yogurt shop owner from San Diego, who cast a vote for Walker. "It's such a better field than 2012. Being a governor, versus a senator, is very important when it comes to picking a commander in chief. He won three elections in four years; he beat the unions."
Carly Fiorina, the former Hewlett-Packard CEO who had stayed active in conservative politics since losing a 2010 U.S. Senate race in California, was more visible at CPAC than any other potential 2016 candidate. That had something to do with her status on the board of the American Conservative Union, but no other ACU board member traveled as widely. Fiorina did everything from radio sit-downs, panels on Russia and the economy, and a well-received speech with applause lines mocking Hillary Clinton's claims of experience.
"I would love to see Carly Fiornia," said Dot Michael, a Pennsylvania activist with Tea Party Patriots. "I wasn't even thinking of her before I saw her spoke."
Paul hardly won every libertarian in the CPAC crowds. By a 65-32 percent margin, CPAC poll respondents wanted to bar the NSA's mass metadata collection. Only 27 percent of respondents wanted marijuana to stay illegal in all circumstances. Yet a lot of the people who agreed with Paul on the issues cast ballots for his rivals.
"I don't think he did that good of a job with his speech this weekend," said Barr. "I think he came out poorly, and I walked out of that room really wanting to get on board with Cruz. But I'm a Rand Paul supporter."
The full results, with last year's numbers in parentheses:
1. Rand Paul 25.7 (31)
2. Scott Walker 21.4 (7)
3. Ted Cruz 11.5 (11)
4. Ben Carson 11.4 (9)
5. Jeb Bush 8.3 (N/A)
6. Rick Santorum 4.3 (7) 
7. Marco Rubio 3.7 (6)
8. Donald Trump 3.5 (2)
9. Carly Fiorina 3.0 (N/A)
10. Chris Christie 2.8 (8) 
11. Rick Perry 1.1 (3)
12. Bobby Jindal 0.9 (2)
13. Sarah Palin 0.8 (2)
14. Mike Huckabee 0.3 (2) 
15. John Bolton 0.3 (N/A)
16. Lindsey Graham 0.1 (N/A)
17. George Pataki 0.1 (N/A)