Rand Paul Wins 2015 CPAC Straw Poll
The conservative-vs.-establishment race gets underway.
By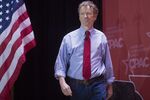 For the third consecutive year, Kentucky Senator Rand Paul grabbed a victory in the Conservative Political Action Committee's presidential straw poll. Paul won 25.7 percent of the 3,007 votes cast, down slightly from 2014, when 2,459 total attendees gave him 31 percent of the vote. Wisconsin Governor Scott Walker, who placed fifth in 2014's poll, floated to a strong second place– 21.4 percent–continuing a run of successes with conservative activists that started last month at the Iowa Freedom Summit.