Putin Critics Condemn Opposition Leader's Murder
At the scene of Nemtsov's killing, his allies denounce Putin government propaganda
by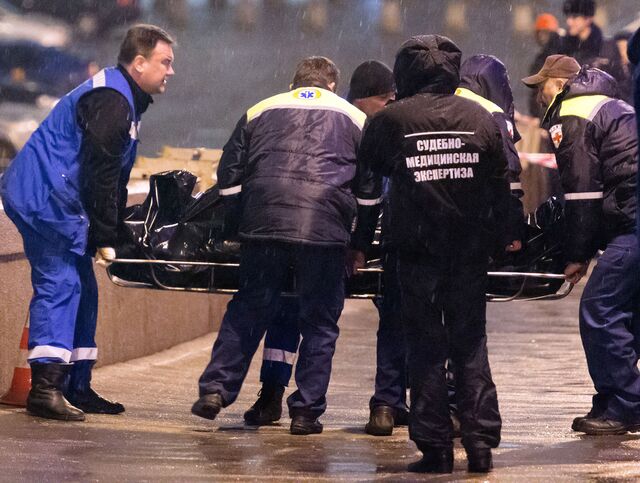 Stuffed in a black plastic bag, Boris Nemtsov's body was lying for two hours on the rain-soaked pavement several hundred feet away from the Kremlin wall and Moscow's most famous landmark, St Basil's cathedral. The 55-year-old liberal politician was shot dead as he was crossing the Bolshoy Moskovertsky bridge, which leads from the Red Square to the southern part of the city. 
Police say that Nemtsov was hit by four bullets fired from a passing car. He was accompanied by a female friend who was left unharmed. Authorities refused to disclose the woman's name, but Russian news outlet LifeNews identified her as Ukrainian model Anna Duritskaya. The incident took place just before midnight local time on Friday, in what is considered one of the most secure public areas in all of Russia. The vicinity of the Kremlin is guarded by hundreds of police, security agents, and CCTV cameras at any given time.
Nemtsov, head of the RPR-PARNAS political party, was a vehement critic of president Vladimir Putin and Putin's inner circle. He was preparing to take part in a major opposition protest against the economic crisis and the war in Ukraine on Sunday. According to Ilya Yashin, a member of Nemtsov's party, he was also working on a book detailing evidence of Russia's direct involvement in the Ukrainian conflict.
Police sealed off the section of the bridge closest to the Kremlin as forensic experts examined the scene. The area was filled with a few dozen police vehicles. Interior minister Vladimir Kolokoltsev was personally directing his men at the scene.
An activist aligned with Nemtsov's movement, Mikhail Kirtser, made it to the scene a few minutes after news of the shooting broke. He said that forensic experts stripped the body naked to study the wounds in front of TV cameras, which he believes was a deliberate act of humiliation. Kirtser describes his party leader as a warrior who fought for democratic Russia. "He died in a battle for Russia and it happened in a symbolic place, because Putin's den is right behind this wall," Kirtser said, pointing at the Kremlin.
Modest crowds of supporters and journalists gathered on either side of the sealed-off area. Some people were weeping. Liberal columnist Kirill Rogov, who knew Nemtsov personally, said that despite being a deputy prime minister and Boris Yeltsin's perceived political heir in the late 1990s, Nemtsov avoided the corruption that permeates Russia's government institutions. He said the Kremlin has created an atmosphere in which Nemtsov's murder became possible. "I believe he was killed by people brought up on Putin's propaganda — the kind of people who are fighting [on the side of pro-Russian rebels] in Ukraine today," Rogov said.
Opposition politician Leonid Volkov also blamed toxic propaganda for the murder. "In the situation whereby the authorities are actively sowing hatred towards dissidents, it is no surprise that someone might decide to commit such a heinous act," he said. A key organizer of the Sunday opposition protest, Volkov said the action should be postponed, because it was "inappropriate" given the circumstances. Russia's main opposition leader Alexei Navalny is currently in jail, serving a 15-day sentence for handing out campaign leaflets in central Moscow. Volkov said he didn't know whether Navalny had been notified of Nemtsov's death.
Putin's supporters held their own march in Moscow a week ago, demanding that the authorities purge the opposition and punish its leaders, Nemtsov included. They accused them of plotting to stage a Ukraine-like revolution and overthrow Putin's government.
Before it's here, it's on the Bloomberg Terminal.
LEARN MORE