Pena Nieto Nominates Arely Gomez as Mexico's Attorney General
Eric Martin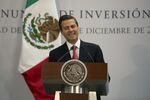 Mexican President Enrique Pena Nieto nominated Arely Gomez, a senator from his Institutional Revolutionary Party, to become attorney general after announcing Jesus Murillo's departure from the post.
The nomination was sent to the Senate on Friday, according to an e-mailed statement from the chamber's press office. Gomez, who must be approved by lawmakers, requested leave from the Senate this week. She previously has served as a prosecutor in the attorney general's office and as an official with Mexico's Supreme Court.
Murillo became a lightning rod for public criticism during the probe into the disappearance of 43 college students. He left his post on Friday to head the Land Development Ministry in the first major cabinet shakeup since Pena Nieto took office in 2012.
Murillo became a target for outrage over insecurity in a nation torn by drug violence when he ended an hourlong news conference over the student disappearance in November by waving off reporters and saying "enough, I'm tired." Protesters made the comment a rallying cry, creating the Twitter hashtag #YaMeCanse to express indignation at the pace of the government's investigation and call for Murillo's resignation.
Before it's here, it's on the Bloomberg Terminal.
LEARN MORE