Indian Stocks Gain After Budget as Banks Climb While ITC Slumps
Rajhkumar K Shaaw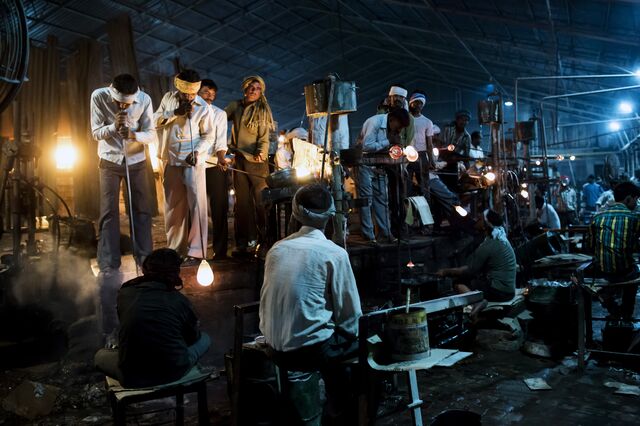 Indian stocks climbed for a second day in a volatile trading session as a rally in lenders countered a drop in consumer shares after Finance Minister Arun Jaitley proposed a cut in corporate tax rates in his first full-year budget.
Axis Bank Ltd. rallied the most since September 2013 and ICICI Bank Ltd. rose to a three-week high. ITC Ltd., India's biggest tobacco company, plunged the most in seven years after Jaitley raised the excise tax on cigarettes. Sun Pharmaceutical Industries Ltd. advanced the most in five weeks.
The S&P BSE Sensex increased 0.5 percent to 29,361.50, the first budget-day gain since February 2011. The measure changed direction at least 12 times after Jaitley concluded his speech, which also proposed an increase in infrastructure spending to bolster economic growth. The Sensex rose the most in five weeks on Friday after a government survey said "big bang" reforms may spur growth of as much as 8.5 percent in next fiscal year.
"He has laid out a road map for the next four-five years, rather than present the budget from a one-year perspective," Sunil Singhania, head of equity investments at Reliance Capital Asset Management Ltd., India's third-biggest money manager with $21 billion in assets, said by phone. "We remain positive."
India's budget deficit will narrow to 3.9 percent of gross domestic product in the year starting April 1, the smallest gap since 2008, compared with a previous goal of 3.6 percent, the finance minister told lawmakers.
Homes, Toilets
The nation's biggest money managers have said they'll forgive a higher budget deficit target if the money is spent on roads and ports instead of subsidies. That will help stimulate private investment as well, which fell to 8.5 percent of GDP in 2013, the lowest in government data going back to 2005.
Jaitley repeated pledges to provide homes, toilets and electricity for the nation's 1.2 billion people by 2022. Overall, subsidies will fall to 14 percent of total expenditure in the next year's budget from 16 percent this year, with infrastructure spending rising to 14 percent from 11 percent.
"This is no secret that the major slippage in the last decades is on the infrastructure front," Jaitley said. "Our infrastructure does not match our growth ambitions."
Axis Bank surged 8 percent, the most since Sept. 5, 2013, and ICICI Bank jumped to its highest level since Feb. 3, after Jaitley proposed ending the difference between types of foreign ownerships. Foreign institutional investors limit in private lenders is capped at 49 percent within an overall overseas investment limit of 74 percent.
Foreign Ownership
Axis Bank stands to gain the most from a proposal to remove the distinction between FII and FDI, Hatim Broachwala, Mumbai-based banking analyst at Nirmal Bang Institutional Equities, said by phone. HDFC Bank Ltd. added 1.6 percent. The Bankex gained the most since Jan. 15.
ITC plunged 8.2 percent, the most since January 2008. The stock was the worst performer on a gauge of consumer-products companies, which tumbled 4.1 percent, the most since May 2009.
Bharat Heavy Electricals Ltd., the largest power-equipment maker, slid 3.2 percent. NTPC Ltd., the top power generator, retreated 1.6 percent.
"Market expectations were very high, and one or two stocks pulled down the index due to company-specific news," Singhania said. "It's knee-jerk reaction."
Tata Motors gained 3.2 percent, while Sun Pharmaceutical rallied 3.7 percent, the most since Jan. 22.
MCX Ltd. surged 13 percent, the most since May 22, after Jaitley proposed to merge the commodities regulator with the Securities & Exchanges Board of India, which supervises India's $1.6 trillion equities markets.
The Sensex is valued at 16.5 times estimated earnings for the next 12 months, a 15 percent premium over the five-year average. Foreigners bought a net $403 million of local shares on Feb. 26, taking this year's inflows to $3.9 billion.
Before it's here, it's on the Bloomberg Terminal.
LEARN MORE