House Voting Friday on Averting Homeland Security Shutdown
Heidi Przybyla and Billy House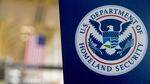 The House of Representatives will vote tonight on a one-week funding bill to avoid a shutdown of the U.S. Department of Homeland Security.
The House scheduled a vote for about 9:45 p.m. Washington time. The U.S. Senate passed the measure earlier Friday, just hours before the agency's funding is due to expire at midnight.
House Minority Leader Nancy Pelosi, a California Democrat, said members of her party should back the one-week extension. In a "dear colleague" letter Friday night, Pelosi asked fellow Democrats to support "a seven-day patch" for stopgap funding that she said would be voted on in a fast-track procedure that require two-thirds of the House for passage.
"Your vote tonight will assure that we will vote for full funding next week," Pelosi said in the letter.
Michael Steel, a spokesman for House Speaker John Boehner, an Ohio Republican, said that Boehner made no promise to Pelosi that there will be a vote on full funding for the Department of Homeland Security next week.
Funding for the agency expires at midnight. Without new spending, thousands of Homeland Security employees would be furloughed or required to work without pay.
Earlier Friday, Boehner was unable to corral enough votes among his Republican majority to pass a short-term bill that would keep the agency operating through March 19. The vote was 203-224, a stunning embarrassment for Boehner.
Obama Meeting
President Barack Obama met Friday evening with Homeland Security Secretary Jeh Johnson and Shaun Donovan, head of the White House budget office, to discuss the deadline for funding the agency, according to a White House statement. Obama then called the top Democrats in the House and Senate for an update on efforts on Capitol Hill to avert a shutdown.
Senator Lindsey Graham, a South Carolina Republican, urged his party members in the House to back down and vote for funding. "Do not shut down DHS today or in the future," he said on CNN.
Also on Friday, the Senate passed a bill funding the agency through September. House Republicans said they wouldn't take up that plan because it doesn't seek to block Obama's orders on immigration as the House majority seeks to do.
The confusion over Homeland Security spending followed episodes last month when Boehner had to pull a border-security bill and an anti-abortion measure from the floor for lack of support.
In the 2015 session's opening moments on Jan. 6, Boehner was a target of Republican opposition, as 24 members of his party members voted for someone else to be speaker. He won the election, though with votes from less than half of the full House membership.