Nemtsov Sought to Show Russia Is in Ukraine, Poroshenko Says
Daryna Krasnolutska and Volodymyr Verbyany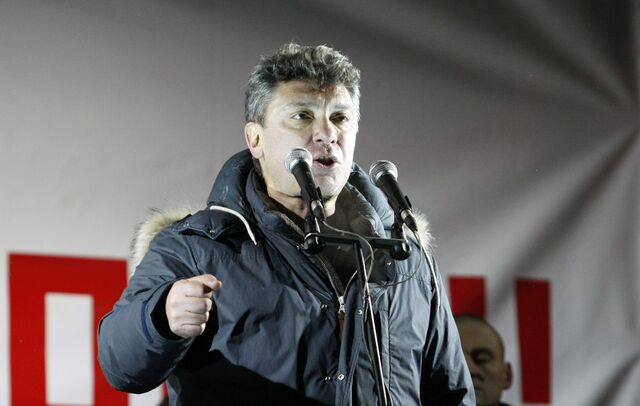 Ukrainian President Petro Poroshenko said his "friend" Boris Nemtsov, a Russian opposition leader gunned down on a sidewalk near the Kremlin overnight, wanted to show proof that his country's troops are in Ukraine.
Nemtsov, who was scheduled to lead a Sunday protest against Russian President Vladimir Putin and the conflict in Ukraine, was working on a report about Russia's involvement, according to fellow opposition activist Ilya Yashin. His murder happened just before artillery fell mostly silent for the second time in a week as government forces and the separatists said they were pulling back weapons in line with a Feb. 15 cease-fire.
"A few weeks ago I spoke to him about how to build relations between Ukraine and Russia," Poroshenko was cited as saying by news service Interfax. "Boris declared that he must show convincing proof of Russian troops' participation in Ukraine. Someone was afraid of that very much. Boris wasn't afraid, but his executioners were. They killed him."
Ukraine accuses Putin of stoking the war by supplying separatists with weapons, cash, intelligence and troops from across the border in Russia. Putin rejects the accusations. The European Union and the U.S. have threatened to intensify sanctions against Russia if Putin doesn't use his sway to help stop the conflict, which has killed more than 5,600 people and brought ties between the Cold War foes to their lowest level since the fall of the Iron Curtain.
Arms Withdrawal
Russia's opposition blamed the government for creating the atmosphere that led to the assassination and scheduled a march through the Russian capital to replace Sunday's protest rally.
"One of not many whom I can call a friend," Poroshenko said on Facebook on Saturday. "He was a bridge between Ukraine and Russia. It's ruined by murderers, I think not accidentally."
The rebels continue to amass weapons, munitions and fighters, and Russia continues to send them supplies from across the border, Ukrainian military spokesman Andriy Lysenko said in Kiev on Saturday.
In Ukraine's conflict area, militia in the self-proclaimed Donetsk People's Republic began a new stage of withdrawing heavy arms Saturday morning, according to the separatist-run DAN news service.
Shelling ceased across most of the eastern region overnight, with some sporadic rebel fire still continuing around Donetsk, the Defense Ministry said in a statement.
Hryvnia Panic
The pull-back of heavy weapons is a key part of the cease-fire and is meant to be followed with intensified monitoring by officials from the Organization for Security and Cooperation in Europe. OSCE officials said this week that separatists are still restricting access for their observers.
A pause in fighting may give Ukraine breathing space to deal with a spiraling currency crisis and the threat of Russia cutting off natural gas supplies. The nation is still awaiting a disbursement from a $17.5 billion International Monetary Fund rescue. Investors are also nearing talks to ease terms on the government's foreign debt.
The hryvnia has plunged more than 40 percent this year amid a deepening recession and international reserves at the lowest in at least a decade. Ukraine's central bank tightened capital controls this week and announced more curbs may be on the way to stop the currency's meltdown.
"Panic must be stopped and we are doing that now," National Bank of Ukraine Governor Valeriya Gontareva said on Friday in Kiev.
Gas Talks
Gas shipments have been another flashpoint. A dispute reignited last week over supplies to rebel-held areas in eastern Ukraine. Russia demanded the government in Kiev pay to supply to the region, while state-run NAK Naftogaz Ukrainy refused and accused Russian exporter OAO Gazprom of failing to meet its fuel requests.
Naftogaz will cut gas imports from Russia to keep the fuel flowing for the next six days as the former Soviet republics prepare for EU-brokered talks in Brussels on Monday. The company will continue pre-paying Gazprom for supplies if the Russian company abides by an Oct. 30 contract, Naftogaz Chief Executive Officer Andriy Kobolyev said on Saturday in Kiev.
"This gas dispute is clearly tied to the dynamics of military operations in the east of Ukraine," said Vasily Kashin, an expert at the Center for Analysis of Strategies and Technologies in Moscow.
Before it's here, it's on the Bloomberg Terminal.
LEARN MORE