In California, Christie Says He's Ready to Fight
The New Jersey governor tells West Coast Republicans not to settle on a presidential candidate too soon.
By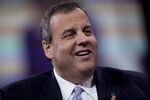 SACRAMENTO, Calif.—Chris Christie has a message for Republicans fretting over the potential for a prolonged presidential nomination fight. 
"Take a breath everybody,'' Christie said. "We have 21 months before we elect our next president.''
New Jersey's Republican Governor, who is considering a run for presidency, was speaking to a gathering of California's Republican Party at a Hyatt Regency hotel across the street from the white-domed statehouse office where Ronald Reagan served as governor more than 40 years ago.
In a 25-minute speech that was half a call to arms for Republicans and half a demonstration that he has a soft, humble side, Christie urged Republicans to resist their own urge to coalesce around a nominee too soon. He reminded the audience that, in 1980, George H.W. Bush challenged Reagan late into the primary season, and that, in 2008, Hillary Clinton fought Barack Obama's eventual nomination through June. 
"I can promise you that over the next few months, there will be article after article arguing that our party can't afford a long nomination battle," he said. "That we need to pick a nominee as soon as possible, that we have to unite around whichever candidate appears to have the most money or the most endorsements or the best press coverage.
"Don't be afraid. The nomination should be decided by you and people like you all over this country, not by pollsters and by pundits, not by the talking heads on TV or by focus groups in some mall, not by donors or God forbid the media in New York or in Washington.''
Christie is in a race with Jeb Bush, the former Florida governor, to grab campaign staff and financial support. Bush, the son and brother of former presidents, announced in December that he is actively exploring a run. His advisers set a fundraising goal of $100 million by the end of March, threatening to lock up the donor field and bolstering their candidate's standing.
In California, Christie said, "I do not fight just for the sake of fighting. I will not fight every fight. But you can take this to the bank. I will fight the fights that are worth fighting for my state and for our country." 
The state is often considered a virtual ATM machine for presidential candidates, a place where they try to lock up donors and support. Christie's agenda includes private meetings in Sacramento, the San Francisco Bay Area, and Southern California. 
California is a decidedly blue state, with Democrats holding every statewide elected office and both chambers of the legislature. In registered voters, Democrats outnumber Republicans 43 percent to 28 percent. Still, with more than 170 delegates, the most of any state, California is a prize for any candidate seeking the nomination—whatever their party.
And Christie is a Republican governor elected twice in a state where Democrats hold a 700,000-vote registration edge, and where the GOP hasn't won a U.S. Senate race in more than four decades.
Christie used his speech to take swipe after swipe at President Obama, at one point saying it was a "national disgrace" that he will not meet with Israeli Prime Minister Benjamin Netanyahu during his trip next week for an address to a joint meeting of Congress on March 3.
Netanyahu intends to use his speech to U.S. lawmakers to warn against a nuclear accord with Iran. Obama's administration says that Congress's invitation to Netanyahu was inappropriate given that Israel's general election is on March 17. Vice President Joseph Biden and Secretary of State John Kerry do not plan to attend. 
"President Obama and the White House urged Democrats to boycott his speech," Christie said. "That is a national disgrace. There is a severe price to pay when our president demonstrates to the entire world that our relationship with our allies is fractured and that we do not have the ability influence. It is the job of our president, no hard, no matter how frustrating, to be the one to articulate our strategic view to the world.''