Buffett Sets Stage for Massive Buyback, Dividends After Decade
Zachary Tracer and Noah Buhayar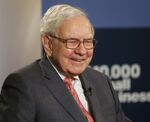 Warren Buffett, whose Berkshire Hathaway Inc. is sitting on about $63 billion in cash, told shareholders to expect a dividend or stock buybacks, as long as they're prepared to hold the shares for a decade or more.
"Eventually -- probably between 10 and 20 years from now - - Berkshire's earnings and capital resources will reach a level that will not allow management to intelligently reinvest all of the company's earnings," Buffett wrote in his annual letter to shareholders Saturday. "Our directors will need to determine whether the best method to distribute the excess earnings is through dividends, share repurchases or both."
Buffett, who took over Berkshire in 1965 and transformed it into the fourth-largest company in the world, laid out his vision for the company's next half century in the annual report. The 84-year-old has long rebuffed calls for a dividend, saying that Omaha, Nebraska-based Berkshire has been better off using its funds to acquire businesses, reinvest in operations or buy stocks.
Berkshire's directors will one day decide whether to use cash for repurchases or dividends based on the board's view of the intrinsic value of the company, Buffett wrote. In late 2012, Berkshire spent $1.3 billion to buy back shares that were trading at less than 120 percent of book value. The stock closed Friday at $221,180, or about 1.5 times book value, a measure of assets minus liabilities.
"Berkshire's directors will only authorize repurchases at a price they believe to be well below intrinsic value," Buffett wrote Saturday. "If Berkshire shares are selling below intrinsic business value, massive repurchases will almost certainly be the best choice."
Munger's View
Buffett has said intrinsic value, a metric that accounts for the amount of cash that can be taken out of a business in its lifetime, is the best tool for evaluating the company, though it's more subjective than book value.
Buffett's long-time business partner, Vice Chairman Charles Munger, in 2011 addressed the possibility of an eventual dividend. He wasn't enthusiastic about the prospect.
"I think that some of you will live to see a Berkshire dividend, but I hope I don't," said Munger, who's now 91.
About a year ago, a shareholder submitted a proposal for Berkshire to consider paying a "meaningful" dividend, saying that the company has "more money than it needs." The company urged investors to reject the proposal, and the vast majority did so.
"Ninety-eight percent of the shares voting said, in effect, 'Don't send us a dividend but instead reinvest all of the earnings,'" Buffett wrote. "To have our fellow owners –- large and small –- be so in sync with our managerial philosophy is both remarkable and rewarding."