Anthony Mason, Dead at 48, Brought Defense and Style to Knicks
Eben Novy-Williams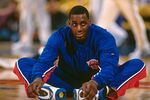 J.R. Smith, a former New York Knicks player now with the Cleveland Cavaliers, remembered Anthony Mason's inspiration, guidance and lasting style impact.
"He made it cool for us to put designs in our head!" Smith wrote via Instagram, as National Basketball Association players past and present used social media to express their sadness at Mason's death at 48.
The Knicks announced Mason's death Saturday on the team's website, calling him "an iconic member of the franchise during his five-year stint for the orange and blue." He had been hospitalized last month following a heart attack.
The 6-foot-7, 250-pound forward known as "Mase" was an integral part of the 1993-1994 Pat Riley-coached team that included Patrick Ewing and John Starks and came within one win of the NBA title, losing to the Houston Rockets.
Mason's haircuts, often featuring "Mase" or "Knicks" shaved into the side of his head, reflected his on-court flair.
A hometown hero, Mason played high school basketball in New York before starring on the Knicks for five of his 13 NBA seasons.
"His New York City roots, his passion for the city game, his desire to win and his tenacity for defense made him a fan favorite," Knicks General Manager Steve Mills said in a statement.
New York rap trio Beastie Boys mentioned him in their 1994 song "B-Boys Makin' With the Freak Freak," singing "I got my hair cut correct like Anthony Mason, then I ride the IRT right up to Penn Station." Mason also was featured in the group's "Root Down" music video.
Raised in Queens
Anthony George Douglas Mason was born on Dec. 14, 1966, in Miami. He was raised in Queens, New York, by his mother, Mary Mason, who worked as a switchboard operator in Manhattan's garment district, according to a 1995 profile in Newsday.
After playing for his Springfield Gardens High School team in Queens, Mason attended Tennessee State University in Nashville, graduating in 1988. He was inducted into the school's athletics Hall of Fame in 2010 and remains among the top five Tigers in career points (2,076), field goal attempts (1,648), and free throws made (452).
Mason was selected by the Portland Trail Blazers in the third round of the 1988 draft, but never played an NBA game with the franchise. He spent the first few years of his professional career bouncing between the Turkish Basketball League, Continental Basketball Association and U.S. Basketball League, before the Knicks discovered him playing for the CBA's Tulsa Fast Breakers in 1991.
New York advanced past the first round of the playoffs in each of Mason's five years with the team, including a run to the NBA Finals in 1994, where the Knicks fell to the Rockets in seven games. He was named the NBA's Sixth Man of the Year after the 1994-95 season and led the league in minutes played the following year.
Good Defense
A left-hander with a passing touch uncommon in players his size, Mason became a favorite in New York for his background and bruising play both offensively and defensively. The Knicks' defense allowed the fewest points in the NBA in 1992-93 and 1993-94.
In July 1996, Mason and teammate Brad Lohaus were traded to the Charlotte Hornets for forward Larry Johnson. He played three seasons in Charlotte before finishing his career with the Miami Heat and Milwaukee Bucks.
In 2001, at 34 years and 2 months, Mason became the second-oldest player named to an NBA All-Star team, according to a New York Times account. It was the only time he was named to an All-Star team.
Over his career, Mason averaged 10.9 points, 8.3 rebounds and 3.4 assists per game. He played in 96 postseason games with four different franchises.
New York Presence
Mason remained a presence in New York after retiring. In 2007 he served as an unofficial coach to Knicks center Eddy Curry, the New York Post reported at the time.
In 1996, Mason pleaded guilty to disorderly conduct for a scuffle with police in Manhattan, according to an account in Times. In 1998, he pleaded guilty to two misdemeanor counts of endangering the welfare of a child after prosecutors dropped sex abuse and statutory rape charges involving two teen-age girls, the Times reported.
His son, Anthony Mason Jr., played basketball at St. John's University and another son, Antoine Mason, played for Auburn University, where he was the second leading scorer based on points per game as of February 2015.
Before it's here, it's on the Bloomberg Terminal.
LEARN MORE