Yuan Drops to Two-Year Low as PBOC Weakens Fixing Amid Slowdown
Lilian Karunungan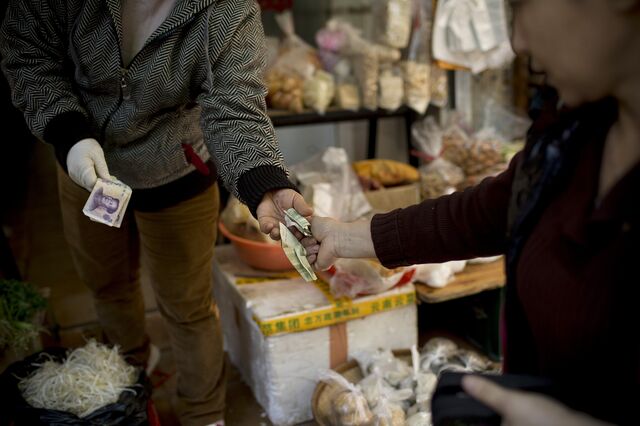 The yuan dropped to the weakest level in more than two years as China's central bank cut its reference rate by the most in a month.
The currency fell as much as 0.18 percent to 6.2699 a dollar in Shanghai, the lowest since October 2012. It traded within 0.02 percent of the lower end of its permitted trading band for the fifth day in a row, a sign it would depreciate more sharply if policy makers loosened control of the exchange rate.
The prospect of higher U.S. interest rates boosted the dollar against all 24 emerging-market currencies in the past six months and the yuan's 2 percent decline compares with slides of 23 percent for Brazil's real and 41 percent for the Russian ruble, the two worst performers. China is limiting depreciation to contain the cost of repaying foreign debt and to prevent an exodus of capital that would hamper efforts to revive growth in the world's second-largest economy.
"The bias is towards easing but you cannot do it too abruptly, especially on the currency side," said Suan Teck Kin, an economist at United Overseas Bank Ltd. in Singapore. "That would cause capital outflows and make conditions even worse."
The yuan fell 0.17 percent to 6.2696 a dollar in Shanghai, China Foreign Exchange Trade System prices show. The central bank cut its reference rate by 0.16 percent to 6.1475 after the Bloomberg Dollar Spot Index, a gauge of the currency versus 10 major peers, climbed 0.9 percent yesterday. The exchange rate is allowed to diverge from the fixing by a maximum 2 percent.
The offshore yuan dropped 0.38 percent to 6.2866 in Hong Kong, according to data compiled by Bloomberg. It fell 0.1 percent this month, while the onshore spot rate lost 0.28 percent.
$1.1 Trillion
A strengthening greenback will add to China's foreign debt burden, the statistics bureau said today. The nation's companies owe $1.1 trillion, according to an estimate by the Bank for International Settlements.
China should loosen monetary policy to reduce the impact of the economic slowdown on the job market, according to a commentary in the China Securities Journal. Standard & Poor's on Thursday lowered its 2015 growth forecast for the nation to 6.9 percent from 7.1 percent and said it expects sluggish demand for exports, a soft property market and slowing credit growth.
Authorities "want to weaken the yuan because the economy is still quite soft," said Jonathan Cavenagh, a currency strategist at Westpac Banking Corp. in Singapore. The currency is unlikely to drop beyond 6.30 per dollar, said Shanghai Pudong Development Bank Co. analyst Cao Yang, citing the potential for Chinese exports to pick up in February and March.
Before it's here, it's on the Bloomberg Terminal.
LEARN MORE