U.S. Stocks Fall, Paring S&P 500's Best Monthly Gain Since 2011
Oliver Renick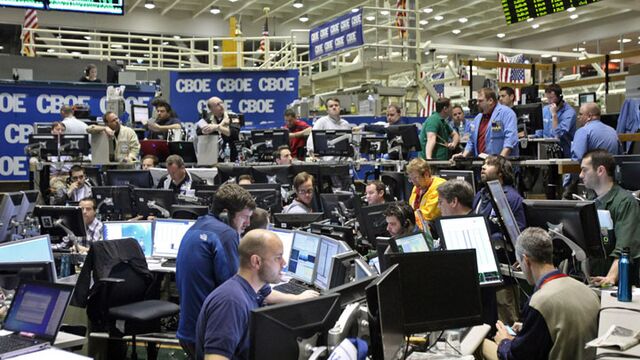 U.S. stocks fell, paring the best month for the Standard & Poor's 500 Index since 2011, as technology shares slumped and data showed the economy expanded at a slower pace in the fourth quarter than previously reported.
Apple Inc., one of the best performers of the month, and Facebook Inc. slid more than 1.5 percent to lead declines among technology shares. J.C. Penney Co. tumbled 6.8 percent after giving a lower-than-estimated annual forecast. Gap Inc. rose 3.1 percent after profit beat estimates. Bank of America Corp. declined 1.4 percent after UBS Group AG downgraded the shares.
The S&P 500 fell 0.3 percent to 2,104.50 at 4 p.m. in New York. The Dow Jones Industrial Average retreated 81.72 points, or 0.5 percent, to 18,132.70. The Nasdaq Composite Index lost 0.5 percent.
"The last day of a month or quarter is always hard to explain -- it can be anything, especially with algos playing such a big part of trading," said Matt Maley, an equity strategist at Miller Tabak & Co LLC in Newton, Massachusetts. Investors taking profit after a month of gains "played a part as well," he said.
Gross domestic product, the value of all goods and services produced, rose at a 2.2 percent annualized rate, down from an initial estimate of 2.6 percent, Commerce Department figures showed. The median forecast of 83 economists surveyed by Bloomberg called for a 2 percent pace.
Jobs Market
Consumer spending last quarter climbed by the most in four years, underscoring the underlying strength of the expansion. An improving job market and cheaper fuel costs will probably keep underpinning households this year, which will help the U.S. overcome a slowdown in exports as the dollar climbs and foreign economies struggle.
Separate data showed more Americans signed contracts to purchase previously owned U.S. homes in January, rounding out a week of housing data that depicted an uneven recovery.
Consumer confidence cooled in February from an 11-year high, reflecting recent gains in fuel costs and bad winter weather in parts of the U.S. A Chicago index of business activity fell to 45.8 in February from 59.4 in the prior month. Economists were looking for a level of 58.
U.S. stocks rallied this week after Federal Reserve Chair Janet Yellen said inflation and wage growth remain too low for the central bank to raise rates at its next meeting. She signaled that a change in the Fed's guidance on interest rates won't lock it into a timetable for tightening.
The S&P 500 reached fresh records four times in February, capping its best monthly performance since 2011 with a gain of 5.5 percent. The Dow rose 5.6 percent and the Nasdaq Composite rallied 7.1 percent for February, advancing at one point to within 1.2 percent of its 2000 record.
Volatility Gauge
The Chicago Board Options Exchange Volatility Index slid 36 percent in February, its biggest monthly drop on record after it jumped as much as 17 percent in January. The gauge, known as the VIX, fell 4.1 percent to 13.34 on Friday.
Eight out of 10 main groups in the S&P 500 dropped, with technology shares falling the most. The industry had the best performance for the month, surging 7.9 percent.
Apple lost 1.5 percent, trimming its rally for the month to 9.6 percent. The maker of iPhones reached an all-time high on Feb. 23. Facebook tumbled 1.8 percent after gaining 2.5 percent in the previous two days.
Salesforce.com Inc. lost 1.2 percent after soaring 12 percent Thursday. Cisco Systems Inc. slumped 1.3 percent.
Earnings Season
J.C. Penney tumbled 6.8 percent. The department-store chain attempting a turnaround gave a disappointing annual forecast and posted a loss in the holiday quarter.
Gap gained 3.1 percent. The biggest U.S. apparel-focused retailer posted fourth-quarter profit that was higher than analysts estimated as the company's discount brand Old Navy boosted sales.
Monster Beverage Corp. surged 13 percent to the highest ever after reporting fourth-quarter revenue and earnings that beat analysts' estimates. The maker of energy drinks amended a pact with bottlers to make Coca-Cola Co. its preferred partner globally.
Ross Stores Inc. added 6.8 percent after the apparel retailer announced a buyback.
The earnings season is drawing to a close, with 96 percent of companies having already reported. Of those, 74 percent beat profit projections and 57 percent topped sales estimates. In the current quarter, analysts predict profit at S&P 500 companies will drop 4.5 percent after a 4.3 percent increase in the final three months of 2014, data compiled by Bloomberg show.
Bank of America lost 1.4 percent. The bank was downgraded to neutral from buy by UBS analyst Brennan Hawken, after the lender disclosed that U.S. banking regulators demanded changes to capital models ahead of annual industry stress tests. The firm's changes raise the risk the bank could fail the Federal Reserve's Comprehensive Capital Analysis Review, Hawken wrote.