The Conservative Contempt Awaiting Jeb Bush at CPAC
The former Florida governor will be met by a skeptical audience on Friday when it comes to two issues: Common Core and immigration.
By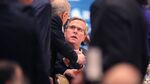 New Hampshire Republicans like keeping their cards close to the vest. Notorious for remaining uncommitted to presidential candidates until almost the last possible minute, their elusiveness is aimed at maintaining the attention of would-be commanders-in-chief in their state's first-in-the-nation primary for as long as humanly possible.
So it's telling when you meet someone like former New Hampshire state representative Fran Wendelboe who already seems downright decided about Jeb Bush's presidential prospects more than a year before her state will hold its primary. "It's a non-starter with me," Wendelboe said Thursday at the 2015 Conservative Political Action Conference in National Harbor, Md. "He might help with the Hispanic vote, but there are four or five other conservatives I'd cast a ballot for."
Wendelboe's scorn, she said, was mostly due to Bush's support for the Common Core state educational standards, which have been adopted by 43 states and have turned into a political litmus test for the Republican Party. On the first day at CPAC, anger over Bush's embrace of Common Core was expressed regularly, setting the stage for what could prove an awkward appearance for the former Florida governor at the conference on Friday. 
"If you simply look at Bush's record in Florida, hardly anyone was to his right, then or now," said John Andrews, a speechwriter in the Nixon White House and former Colorado Senate president. "But there is this concern about whether he fails to understand whether education needs to work from the bottom-up in states and localities, instead of a federal cram-down."
Bush, 62, is at or near the top of national polls of potential Republican presidential candidates despite a skeptical conservative base, which criticizes his support for Common Core, his preference for easing immigration laws, and his ties to the party establishment. The last Bush-less Republican ticket to win a presidential race was the Nixon-Agnew pairing in 1972.
"We have so many great new candidates, I just don't see the need to reuse the same family that has given us two presidents," said Caleb Rhodes, a 19-year-old University of Arizona student attending CPAC, who said he's more interested in Wisconsin Governor Scott Walker and U.S. Senator Rand Paul.
Tea Party activists like William Temple spent much of Thursday telling media organizations of his plan to organize a walk-out of Bush's speech. "We're not going to interrupt anyone's speech, but we are all going to exercise our right to go to the bathroom at the same time," Temple told the Washington Times.
The sneers directed at Bush weren't restricted to the activists milling in the halls of Gaylord National Resort and Convention Center. From the stage of the main ballroom,  New Jersey Governor Chris Christie pointedly criticized his potential rival, while backing away from the education standards his state put in place since he's been in office. "That was all teed up before I came in," Christie said while scratching his knee. Christie said he had "implementation regrets" when it came to Common Core.
Senator Ted Cruz described his opposition to Common Core as "fantastic," and used his speech to encourage CPAC attendees to "demand action, not talk" from the crowded 2016 field—a not-so-subtle dig at Bush.
During his speech at the convention, Louisiana Governor Bobby Jindal joined the pile on. "The federal government has no right imposing curriculum, imposing content standards in local classrooms," Jindal said of Common Core. 
Bush was also called out by name during a panel discussion on Common Core entitled, "Common Core: Rotten to the Core?" Featuring Emmett McGroarty of the American Principles Project and Neal McCluskey of the conservative Cato Institute, the panel didn't discuss the standards as much as dismantle them.
"So much of the promise of Common Core has been, 'If you just nationalize things, they're going to get better,' and we never even got to talk about whether there is any evidence to support that," McCluskey said.
McCluskey pointed out Bush's recent positioning on the issue, which has been to emphasize that his commitment is to high standards, not Common Core. At an education summit put on by his own foundation last month, Bush didn't mention the standards by name, but acknowledged some of the main concerns. "Accountability matters," Bush said. "But beyond that, I think it has to be pretty clear that the federal government's role ought to be to enhance reform at the local and state level, not to impose it. Because that doesn't work."
Whether or not Bush talks about Common Core on Friday will be up to FOX News personality Sean Hannity, who will interview the former governor for 20 minutes on stage. In a similar role on Thursday, Hannity lobbed mostly softballs to Cruz, including one inquiry about why the Texas loves his country.
That warm and fuzzy tone may turn chilly when Bush takes the stage. 
CORRECTION: This post was updated to correct the last Bush-less Republican ticket to win a presidential race: It was the Nixon-Agnew pairing in 1972.