The Conservative Contempt Awaiting Jeb Bush at CPAC
The former Florida governor will be met by a skeptical audience on Friday when it comes to two issues: Common Core and immigration.
By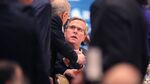 New Hampshire Republicans like keeping their cards close to the vest. Notorious for remaining uncommitted to presidential candidates until almost the last possible minute, their elusiveness is aimed at maintaining the attention of would-be commanders-in-chief in their state's first-in-the-nation primary for as long as humanly possible.