Cars
The Bentley Continental GT Speed Convertible Will Get You Heated—Even in Winter
The world's fastest four-seat convertible may also be its most practical
By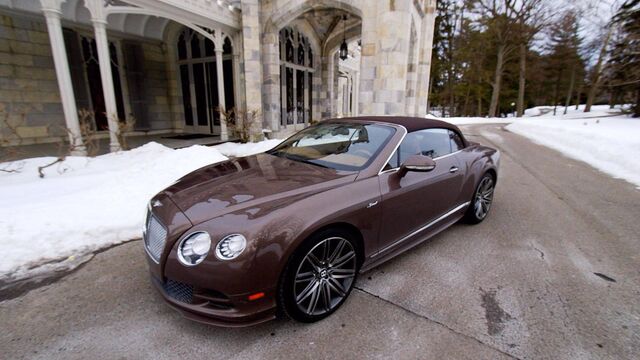 I'd like to say a word about brakes.
No, they're not normally the sexiest point of conversation, but they're important.
And on the $267,000 Bentley Continental GT Speed Convertible, they're spectacular.
So let's discuss.

The GT Speed weighs 6,300 pounds—2,000 lbs. more than a Ford F-150. It can hit 60 miles per hour in four seconds. It's the fastest four-seat convertible you can buy right now.
You can imagine that when that beast gets up to speed on, say, the winter road out to Southampton, you're going to need some killer stoppers.
You're going to want brakes like you want the perfect watchdog: alert, responsive, firm to the point of insistence, but also gentle, and with kind eyes. Not reactionary, not harsh. But lethally accurate when needed.

That's what we have here. Carbon ceramic brakes with fire engine red calipers on 21-inch special alloy wheels tinted with a dark metal finish. You can catch a sliver of them with a glance from the sidewalk.
The rest of the car isn't bad, either. The diamond lattice grill and polished LED headlights play off the understated body line that swoops, uninterrupted, from the strong nose to the short, muscular haunches. It's a little blingy, in a solemn way. Very alluring.

Top Down
The handsome look is nothing new from Bentley. We've seen this car before. It's the update to last year's GT Speed Convertible, It's also the prime option if you need a quicker version of the Bentley Continental GTC.
I drove it for a week in the Hamptons, in upstate New York, in Chinatown, Williamsburg, and Red Hook. I even had the top down at one point—which is saying something, considering the deep freeze that has the Hudson River frozen solid and my landlord Carlos (street name, "Paco") throwing salt on our sidewalk like an angry bridesmaid flinging rice at a wedding. It's morning, noon, and night with that guy.

Not that I recommend you drive with the top down during February in New York—you'll look like an idiot. But with the heated steering wheel, heated seats, and myriad chrome-finished pipe-organ heating vents embedded in the doors and dash, you could. Your cocoon would be augmented by one of my favorite car inventions ever: the $1,055 heaters placed neck-height in the head rests of each seat, blowing a cushion of hot air around your head like a halo. Use them once and you will no longer settle for less. And in California, Kentucky, Texas, Arizona, you can drive this car year-round with the top down, no problem. You're going to want to show off the insides, anyway.
Hand-Crafted Comfort
The Continental GT Speed Convertible is relatively understated from the outside, especially when the very quiet, very tightly-fitted top is fully deployed. The interior is where this car will win your affection.

Bentley employs generations of workers at its headquarters in Crewe, U.K., to make the internal detailing special. (It's called the Mulliner shop.) Ladies there use long, thick, silver needles to hand-stitch leather around a steering wheel—and their work is as tight as the seams around a baseball. Men fit burled walnut on dashboard panels with the same nail-less magic that woodworkers use for fine cabinets.   
The particular Bentley that I drove has diamond-quilted leather seats in dark bourbon and contrast stitching, drilled alloy pedals, and a beautiful B-emblazoned shifter with brushed steel accents. The word "Speed" is embroidered on the headrests and written in silver across the dashboard and floor panels.
Last Sunday one lady of note—from a vintage Italian family of considerable prestige—sank back against the heated massagers of the passenger seat and ran her hand along the Fiddleback eucalyptus wood trim along the door. "Well, it is very luxurious, isn't it?" she said.
Did I mention the back seat? It's big, as far as convertibles go—it'll fit two adults for an afternoon drive—with enough headroom even when the top is up to avoid arguments over who has to sit in the back. Don't get me wrong—this is not a car for a chauffeur. It's meant for real driving enthusiasts, and sitting in the back will get old after an hour or two. But on the off-chance you do have to sit back there, rest assured that your hair will stay in place (the sides of the car are high enough to shield you from tumult), and you'll still hear the radio with clarion-like precision. The feeling inside is surprisingly composed.

Drive Fast, Please
There are some things to note about how it drives. The GT Speed Continental is different from its predecessor in that it is lower and stiffer, with new springs, dampers, and suspension components. The body control that this affords reaches near-flawless levels.
It does best as you pass 60 mph. At low speeds—stop-and-go traffic, say—it can feel big and unwieldy. The steering is looser as you drive slower (not my favorite feel), and the low bumpers and wide rear require constant vigilance against casual curb-grazing.
That's about the worst I can say about it. In fact, the GT Speed Convertible sits at a funny spot in the four-seat convertible spectrum: The BMW 650i convertible and Mercedes E Class Cabriolet, for instance, cost far less, but their performance and interior trim understandably reflect the price difference. And the (far slower, though roomier) Rolls-Royce Phantom Drophead Coupe, which surpasses the Bentley in opulence and driving elan, costs over $100,000 more.
You'll be hard-pressed to find something in this price range that can match both the caliber of craftsmanship and the potency of the 626-horsepower, W12 engine. 
And that's just it. Usually with cars, you can't have it all. You must trade power for practicality, or space for sex appeal. But the GT Speed Convertible brings you pretty close to the edge of everything. Brakes included.
This video was shot at Lyndhurst Mansion.
Before it's here, it's on the Bloomberg Terminal.
LEARN MORE