South Korean Central Bank Restrained by Record Debt
A hurdle for further interest-rate cuts
by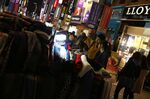 Bank of Korea Governor Lee Ju Yeol says the "sharp increase" in household debt was one of the reasons the Bank of Korea held interest rates this month, even as central banks from China to Australia loosened policy in response to slowing growth.
Data this week showing household debt hitting a record 1,089 trillion won ($992 billion) at the end of 2014 escalates the potential negative side-effects of any rate cut. A rise in mortgage lending led to the 29.8 trillion won increase in the October-December quarter, which was the biggest gain since the central bank started keeping data in 2002.

Debt rose faster than the economy grew last quarter, after the BOK cut rates twice last year and the government lowered restrictions on mortgages to support the housing market and boost growth. The benchmark rate is 2 percent, matching the all-time low.

With South Korea's debt-to-disposable income ratio at more than 160 percent at the end of the end of 2013, policy makers worry it has reached a level that constrains consumption. The government plans to cut this by 5 percentage points by the end of 2017 and encourage debtors to shift to fixed-rate, amortized loans.

Nonetheless, economists forecast the BOK will cut rates by the end of June, with a median forecast for a reduction to 1.75 percent.
A further rate cut will depend on whether data such as exports and industrial output deteriorate enough to counter the central bank's concerns over debt, according to Standard Chartered Plc. "The BOK seems to place extreme importance on managing household debt," said Park Chong Hoon, the Seoul-based head of research at Standard Chartered. "Still, it is likely to lower rates in the first half as export momentum is weak and not much recovery is expected in domestic spending."
The central bank's monetary policy board next meets March 12.
Before it's here, it's on the Bloomberg Terminal.
LEARN MORE