Should the U.S. Make Billions From Student Loans?
Senate Democrats sent a letter to the Department of Education condemning it for profiting from student debt collection
by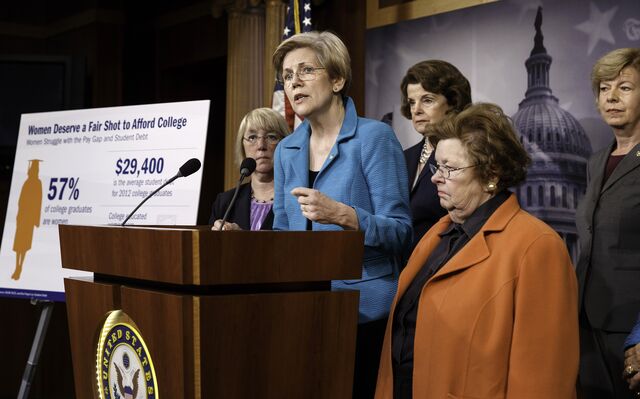 A group of Senate Democrats, led by Elizabeth Warren of Massachusetts, urged the government to offer relief to distressed borrowers this week, even if that dampens the profit it makes from collecting on people with outstanding loans.
In a letter to Education Secretary Arne Duncan dated Wednesday, the six senators wrote, "It is not the job of the Department of Education to maximize profits for the government at the cost of squeezing students." The letter noted that a recent Congressional Budget Office estimate indicates the federal government will bring in $110 billion from these loans in the next decade.
Denise Horn, a spokeswoman for the Education Department, said in an e-mail that the department is reviewing the letter. "[We] look forward to responding," she wrote.
The department should make it easier for people to use the few tools available for demanding a refund on their student debt, the senators wrote. Borrowers who believe that their college committed fraud or lied to them—about job prospects or graduation rates, for example—can file what's known as a "defense to repayment" claim against the school, according to federal law. But Warren and other senators have railed against the department for not making it clear enough to students how they could make such a claim.
More broadly, the senators noted in the letter, the government has not used its power to cancel federal debts outright when the money went to a school that has been accused of abusing students. "Instead, the Department continues to gouge borrowers who struggle to meet their payments, subjecting them to debt collection, wage and benefit withholding," the senators wrote.
Some point out, however, that there are risks inherent in handing money to people who might just get a degree in basket weaving, without checking their credit score. Lenders typically expect to be compensated for such risks. The federal aid program, education expert Kevin Carey wrote in the New York Times this month, "lends money to students at below-market interest rates, regardless of credit history, with no money down, to purchase an asset that can't be repossessed in the event of default."
The government has a unique set of tools for extracting dollars from student debtors. It can take money from a person's wages, tax return, and Social Security income to repay a student loan. Federal law also generally prohibits people from getting relief on their student loans in bankruptcy, which means that unlike other kinds of debt this one will get paid—voluntarily or not.
President Obama has expanded programs that allow students to make payments based on their income, providing one escape valve for people in financial distress. In their letter, the Senate Democrats acknowledge that lifeline, but say they want the government to do more than just lessen the load. It ought to remove it altogether.
Before it's here, it's on the Bloomberg Terminal.
LEARN MORE