Ronald Reagan, Scott Walker, and the ISIS Gaffe
How Scott Walker's fandom of the 40th president hurts him.
By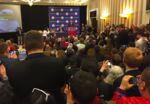 The ledes were written, the narrative was set. At CPAC, Wisconsin Governor Scott Walker was going to have another knockout speech in front of conservatives and national media. A ballroom that rarely reached capacity was out of chairs, with extra Walker fans and Walker-curious conservatives leaning against the walls. Then, after getting a friendly question about how he'd handle ISIS, Walker went overboard.