Officials From Europe, Japan Voice Optimism in Beating Deflation
Rich Miller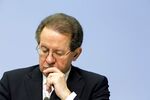 Central bankers from the euro area and Japan voiced optimism that they're making progress in turning their economies around and fighting off the danger of deflation.
European Central Bank Vice President Vitor Constancio told a monetary policy forum in New York that long-term inflation expectations have stabilized in the region after policy makers announced plans last month to start a bond-buying program. He said the area's economy is recovering, and as it strengthens further, that will put upward pressure on inflation.
Bank of Japan Deputy Governor Hiroshi Nakaso told the same conference that his country's economy seems to be back on a sustained growth path after a bout of weakness last year. He sees wage growth accelerating as the tight labor market compels companies to pay their workers more.
"With the underlying trend of inflation dynamics firmly pointing upward, I think we have a good chance of overcoming the deflation and witnessing a true dawn to Japan's economy," Nakaso told the forum sponsored by the University of Chicago's Booth School of Business.
The euro area and Japan have been two weak spots of the world economy and a turnaround in both of them would be good news for global and U.S. growth. Both countries are pursuing a strategy of buying assets to stimulate demand and boost prices, a policy that Federal Reserve Vice Chairman Stanley Fischer said on the same panel has worked in the U.S.
ECB's Stance
ECB President Mario Draghi on Jan. 22 announced a 1.1 trillion-euro ($1.2 trillion) purchase plan of assets including government bonds to stave off the threat of deflation in the 19-nation euro area. Officials will gather in Nicosia, Cyprus, next week for their policy meeting, and Draghi will hold a press conference on March 5 where he could announce more details of the quantitative-easing program.
The annual inflation rate in the euro area fell to minus 0.6 percent in January, matching the biggest decline in prices in the history of the single currency. The ECB targets inflation of just under 2 percent.
"Price stability in the market for goods and services overrides any other objective, and we are very far away from our goal" regarding price stability, Constancio said.
He took solace in the recovery of the region's economy, saying that would help lift prices.
"There is indeed some recovery going on," he said. As it strengthens, "that will put upward pressure on inflation."
BOJ Optimism
Nakaso also sounded an optimistic note.
"Despite the lingering deflationary concerns, green shoots can increasingly be observed with regard to wage and inflation expectations," he said.
Japan is at full employment, with little slack in the labor market, according to Nakaso. As a result, "more firms have expressed their willingness to raise wages this year."
Long-term inflation expectations, meanwhile, "have been gathering momentum" and showing signs of rising, he said.
The size of the bank's balance sheet has almost doubled since Governor Haruhiko Kuroda unveiled record stimulus in April 2013. The BOJ's balance sheet stood at 316.7 trillion yen ($2.6 trillion) as of Feb. 20, according to the central bank.
Kuroda said on Friday in Tokyo that the BOJ is likely to reach its 2 percent inflation target in or around the year starting in April.
Before it's here, it's on the Bloomberg Terminal.
LEARN MORE