Obama Aides Said to Undermine Netanyahu to Win Iran Nuclear Deal
Jonathan Allen and John Walcott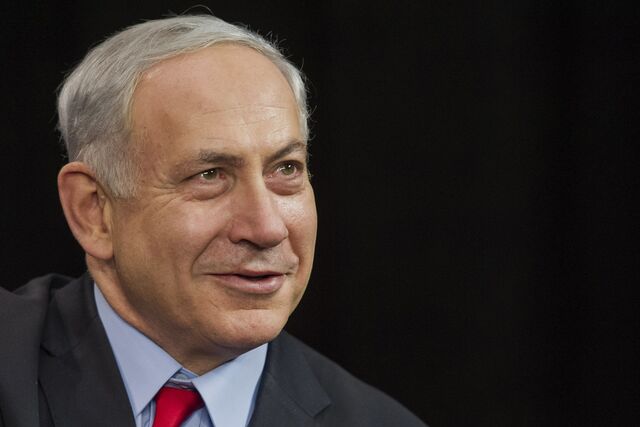 The Obama administration is taking an unusually hard line against Israeli Prime Minister Benjamin Netanyahu to try to diminish his influence on nuclear talks with Iran and hurt his standing at home, a U.S. official said.
That approach is part political and part strategic. President Barack Obama and his team don't care for Netanyahu, and they'd like to weaken him to help parties to the political left of his Likud Party in his March 17 re-election bid.
More important, they want to improve the outlook for a deal with Iran by discrediting its loudest critic, according to one administration official who described the motivations on the condition of anonymity because they reflect internal White House deliberations. U.S. officials say they've concluded that Netanyahu won't back a deal with Iran that allows for any nuclear enrichment -- meaning there's no pact that Iran would accept that he would support.
That's led to public condemnations of Netanyahu this week from a parade of prominent administration officials. Secretary of State John Kerry questioned the Israeli leader's judgment in endorsing the 2003 Iraq invasion, which Kerry himself voted for in the U.S. Senate. National Security Adviser Susan Rice said Netanyahu's upcoming speech to Congress is "destructive to the fabric of the relationship" between the two countries. Obama allies took to Twitter to express their displeasure.
Sending Rice
The frustration with Netanyahu informed the White House decision to send Rice and U.S. Ambassador to the United Nations Samantha Power to the American Israel Public Affairs Committee's annual Washington conference next week, a gathering that Netanyahu is scheduled to address Monday.
In addition, sending power is a reminder to Israel and its supporters that the U.S., with its UN veto, is an important barrier to hostile actions in the world body, said a second U.S. official who asked for anonymity.
Power and Rice will argue that the administration is working in the best interests of Israel's security and that negotiations over an Iran deal follow that pattern, a third administration official said. That sets up a titanic public clash with Netanyahu, who is expected to use his audiences with American Jews and Congress to warn against a possible deal, just two weeks before he is up for re-election.
The U.S. may be strengthening Netanyahu among the voters he needs most in the March 17 Israeli election, according to people familiar with Israeli politics.
Warning Voters
The harsh rhetoric and decision to send Rice to AIPAC serve three purposes, the first U.S. official said.
Obama wants to warn Israeli voters that the U.S.-Israel relationship would be far more fragile under another Netanyahu-led coalition than under a more centrist government, particularly if the Israeli leader allies himself with Jewish Home and other hard line parties.
Second, U.S. officials would like to create a divide among pro-Israel American Jews so that they can weaken the traditional lobbying power of AIPAC and strengthen J Street, a rival pro-Israel public policy and lobbying group that criticized Netanyahu in an ad in the New York Times this week.
Finally, the latest moves are designed to send a signal to Netanyahu and others that the administration will proceed with nuclear negotiations with Iran and that U.S. officials continue to believe it's possible to strike a deal that would protect Israel's security by preventing Iran from rapidly producing nuclear weapons.
The push to hurt Netanyahu with Israeli voters appears to be having the opposite effect, according to Ilan Goldenberg, a former chief of staff to the State Department's special envoy for Israel-Palestinian negotiations.
Political Calculations
"It's a little bit of a mistake if what they care about is Netanyahu's re-election campaign," Goldenberg, who is now a senior fellow at the Washington-based Center for a New American Security, said in a telephone interview from Israel. "It just helps him."
While Netanyahu has alienated major pillars of the American Jewish community by going around Obama to win an invitation to address Congress and by cultivating a contentious relationship with the U.S. president, Goldenberg said, he's strengthened his position with voters on the right end of the political spectrum in Israel. To form a government, he would likely need strong support from them.
The proximate causes of the latest tension between Netanyahu and Obama, who have never been close, are the so-called P5+1 multilateral nuclear talks with Iran and Netanyahu's Tuesday speech to Congress, in which he is expected to warn against striking a deal.
Two-State Solution
They follow a tack laid out in former Obama adviser David Axelrod's recent memoir, in which he wrote that the president said before the 2012 election that he hadn't been tough enough in demanding that Netanyahu work to negotiate a long-term peace accord with Palestinians.
Since taking office, Obama "had pushed the Israelis and Palestinians for a two-state solution, but his efforts, like those of presidents before him, had been run aground by the intractable politics of the Middle East," Axelrod wrote. "He was frustrated with both sides, but felt he had pulled his punches with Netanyahu to avoid antagonizing elements of the American Jewish community."
Obama's allies have taken to Twitter in recent days to attack Netanyahu. Tommy Vietor, who served as a spokesman on Obama's first presidential campaign and later for the National Security Council, tweeted of Netanyahu, "This man is getting really bad political advice" after the Israeli leader turned down an offer to meet privately with Senate Democrats next week.
Partisan Tensions
Senators Richard Durbin, an Illinois Democrat who is close to Obama, and Dianne Feinstein, a California Democrat, had issued the invitation on the premise that meeting would help ease partisan tensions that arose when it was announced that House Speaker John Boehner, an Ohio Republican, had unilaterally asked Netanyahu to address both chambers of Congress.
Democrats have expressed outrage over the prospect of Netanyahu using the U.S., and particularly a speech to Congress, as a backdrop for his re-election effort.
The third administration official, also speaking on the condition of anonymity, laid the blame for the contretemps at the Israeli prime minister's feet. It was Boehner and Netanyahu who created the dynamic, this official said.
It's not unusual for candidates to visit foreign countries to aid their prospects in domestic elections.
In July 2008, after he had won his party's primary and turned his focus to the general election, Obama visited Israel, a move widely seen as an effort to bolster his standing with American Jews.
Obama slipped a prayer into a crevice in the Western Wall, a remnant of Herod's Temple in Jerusalem that has long been a point of pilgrimage for religious Jews. Axelrod cited that trip as a major moment for Obama in allaying concerns that some American Jews had about his commitment to supporting Israel.
Before it's here, it's on the Bloomberg Terminal.
LEARN MORE