Space
NASA Is Just Killing It With These Earth-Watching Satellites
Five satellites launched in the past year are keeping an eye on Earth, wind and fire. And water.
by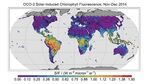 Anybody can drive a shovel into the ground to see how moist the soil is. What's tricky is doing it over every square yard of land on Earth. From 426 miles above the surface of the planet. Every 100 minutes.
Fortunately, we don't have to. Now there's SMAP, the newest NASA Earth-observing satellite, which from its orbit can read soil moisture levels two inches deep, just about anywhere there's soil. It will help predict floods and weather, watch droughts, and monitor agricultural conditions, particularly where people's lives may be urgently at stake.
SMAP is one of five Earth satellites launched in the past year, all of which will produce data helpful to hurricane first-responders, weather forecasters, farmers, climate scientists, or anybody who likes to look at beautiful animated graphics on the Internet.

NASA hasn't enjoyed a launch rate like this in more than a decade, according to agency officials assembled Thursday for a press call. And over a dozen more Earth missions are planned over the next eight years. They'll join a fleet of 20 existing U.S. Earth science satellites, which do everything from improving weather forecasts to providing policymakers with data on where greenhouse gas emissions are coming from.
The renaissance in Earth observations comes at a critical time in the evolution of global warming and policy response to it. Many of these missions are helping, or about to help, scientists better understand how oceans, the atmosphere, agriculture, and water resources are changing, and what if anything can be done about it.
It's feast or famine. An aggressive Earth-science program during the Clinton-Gore years weakened considerably under Bush-Cheney. Over the last 10 years, the aging of the U.S. satellite fleet has become a major concern to scientists.
"Funding is always the limitation," said Peg Luce, deputy director of NASA's Earth Science Division, "but we feel we are at a funding level now that is allowing us to keep the missions quite healthy."
Most of the new satellites are already streaming back data, about rain and snow storms, ocean winds, ground moisture, and carbon dioxide levels, with unprecedented precision and breadth. The agency released some early results to mark the anniversary of the Feb. 27, 2014, launch of the Global Precipitation Measurement (GPM) Core Observatory, a satellite that every three hours sends back updates on the world of rain and snow. Developed jointly with the Japanese Aerospace Exploration Agency, the GPM will also collaborate with a dozen other satellites to produce maps of precipitation as it wiggles around the globe. Like this:
The GPM can take remarkable three-dimensional cross sections of clouds filled with ice crystals, rain, and snow. This video shows a 360-degree view of the storm that dumped as much as nine inches of snow on Washington, DC, and its suburbs on Feb. 21.
The Orbiting Carbon Observatory-2 went up in July. It takes more than a million measurements a day of atmospheric carbon dioxide levels. The data help scientists see where the CO2 is coming from, such as Asian coal plants, and also where it's going — into the Northern Hemisphere's boreal forests and the Amazon. This video, released previously, shows how the world's major carbon-emitting centers belch up gases that join global weather patterns.

This view shows lots of carbon-dioxide in the Northern Hemisphere and not much at all in the Southern, a consequence in part of the seasons. In the Southern summer, trees and other green things have eaten some of the CO2 out of the air. Dead and hibernating vegetation, and fossil-fuel burning, up north has spit it back out. Researchers are still investigating whether some of the red bands to the north may be influenced by cloud interference or, in the case of West Africa, dust kicked up from the Sahara.
RapidScat, which launched on Sept. 20, tracks ocean surface winds and covers almost the entire watery part of the world once a day. It's the first Earth-watching mission that was designed for and installed on the International Space Station.
Another mission, the Cloud-Aerosol Transport System (CATS), joined RapidScat on the International Space Station in January. CATS takes profiles of the atmosphere, showing how high and thick clouds are, and where aerosols are distributed within the atmosphere. Its data will feed into weather and climate models, making their simulations more realistic. 
The most recent launch was SMAP's, on Jan. 31. The newest member hasn't yet begun sending back what may prove critical data about groundwater levels to drought-stressed regions. But last week it stretched out a long robotic arm and unfurled its 20-foot diameter gold-plated wire mesh detector -- the satellite equivalent of wetting your finger and pointing it up in the air to check to the wind, pausing to decide what to do next.
Before it's here, it's on the Bloomberg Terminal.
LEARN MORE