Linkers Indicate Poloz to Avoid Deflation Spiral: Canada Credit
Cecile Gutscher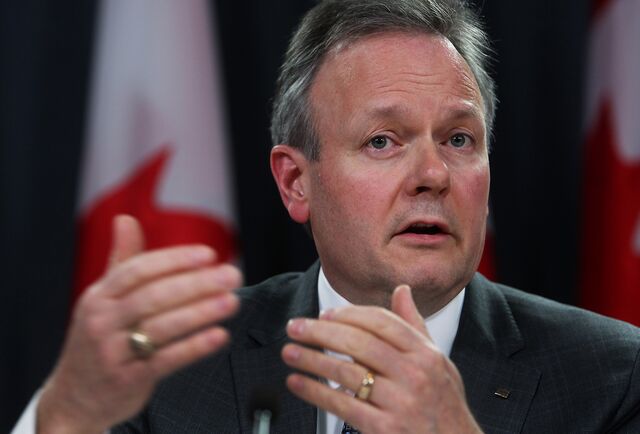 The love-hate relationship that investors have with inflation-protected bonds suggests that Bank of Canada Governor Stephen Poloz is right when it comes to his comments that last month's interest-rate cut was enough for now.
"Everyone hates them because inflation is so low," said Patrick O'Toole, a money manager who helps oversee C$50 billion ($40 billion) of fixed income at Canadian Imperial Bank of Commerce's CIBC Asset Management unit in Toronto. "But we like them because we think we've seen the low of inflation here."
Linkers have gained 8.2 percent since December, the best start to a year on record, according to Bank of America Corp. index data. The bonds, whose principal and interest payments are adjusted for changes in consumer prices, are the best performers among Group of Seven countries, where inflation-indexed debt has gained an average 1.6 percent, the data show.
Poloz said Tuesday that the surprise Jan. 21 rate cut, the first move since 2010, buys policy makers time to study the damage to the economy from a drop in the price of crude oil, the nation's largest export. The rate was lowered to 0.75 percent, from 1 percent. A report Thursday showed Canada's consumer price index rose at a faster pace in January than economists forecast.
O'Toole and John Braive, vice chairman at CIBC Asset Management, said they added to linker holdings in February.
Break-Evens
Consumer prices rose 1.0 percent from the same month a year earlier, Statistics Canada said Thursday. Economists in a Bloomberg survey projected 0.8 percent. The core rate, which excludes eight volatile products, remained at 2.2 percent for a second month.
The January gain in inflation, the slowest in more than a year, compares with advances of 1.5 percent in December and 2.0 percent in November, the agency said.
What's known as the break-even rate on 10-year linkers, or the difference between yields on inflation-protected and comparable nominal government bonds, traded at 1.79 percent at 9:30 a.m. in Toronto, the highest since November. The measure is seen as a gauge of what investors expect inflation to be over the life of the securities.
"We think you're going to have break-evens move higher and real-return bonds will outperform," O'Toole said.
Inflation-linked bonds, which typically mature in 30 years, benefited from January's rate cut more than plain-vanilla government debt. Because of their longer maturities, inflation-linked bonds are more sensitive to changes in interest rates in rallying markets.
Modified Duration
"The very long duration of the real-return bonds versus other categories gives you more of a price impact," Braive said.
The modified duration on Merrill's Canadian inflation-linked index is about 16 years, compared to about seven years on the firm's index of nominal government bonds.
The Bank of Canada sets interest rates to keep inflation in the middle of a 1 percent to 3 percent band. Excluding gasoline, consumer prices rose in January to 2.4 percent, from 2.3 percent in December. Food prices rose at the fastest pace since November 2011 with a gain of 4.6 percent.
"Core was up, which is reflective of the fact that the Canadian dollar's decline is starting to show through," Braive said.
The currency's 7.4 percent decline this year against its U.S. counterpart raises the prices of imported goods such as clothing, automobiles and food.
"Our currency has gone down so much, and normally that's something that creates inflation," said Hosen Marjaee, senior managing director of Canadian fixed-income at Manulife Asset Management, which oversees C$22 billion. "With the low Canadian dollar, a lot of imported things go up in price -- that might be a sign of inflation to come."
Before it's here, it's on the Bloomberg Terminal.
LEARN MORE