Jeb Bush Makes His Pitch to the Base
Facing skepticism from the conservative base of Republican party, the former Florida governor enters the lion's den at CPAC.
By and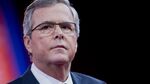 Facing intermittent boos, protest chants, and a handful of conservatives walking out on him, Jeb Bush made his case for immigration reform, eased himself away from controversial aspects of Common Core, and promoted his record as Florida governor in a key moment of his nascent presidential campaign.
Bush, in his first public appeal to the party's skeptical base, told the Conservative Political Action Conference on Friday that he will "show what's in my heart," promising that his campaign, if he officially decides to run, would be based on ideas that looked to the future instead of relying on his family ties.
"We need to start being for things again," Bush said, adding that the U.S. needs a stronger national defense and tax, regulation, and education policies that would help strengthen the middle class. "It's good to oppose the bad things, but we have to start being for things," he added.
Standing on a stage with Fox News personality Sean Hannity, Bush was initially heckled by a handful of audience members. Bush acknowledged the boos earlier in the day at the mention of his name. "I'm marking them down as neutral," Bush joked. "And I want to be your second choice if i decide to move beyond this."  
But Bush supporters salted through the audience provided cheers and applause, preventing the hecklers from upstaging him.
Instead of a speech, Bush chose to answer questions from Hannity, who raised many of the issues that have led some conservatives to oppose Bush's potential candidacy.  
On immigration, Bush said that "first and foremost, we need to enforce the borders," Bush said. "Let's do it, man."
He backed a path to legal status for immigrants, said the country needed to "narrow family petitioning" for would-be immigrants, and called for more "economic-driven" policies.  Asked why the country should allow more immigrants when millions of Americans remained unemployed, Bush acknowledged a disagreement with many Republicans and told the group "there is no plan" to deport the 12 million undocumented immigrants in the U.S.
"You either believe that the pie is static ... and therefore someone's benefit is someone's detriment," Bush said. "I believe what we ought to be focused on is growing the economic pie.
"It's not a zero sum game," Bush said "That's not how Republicans and conservatives think."
On the Common Core academic standards, Bush promoted his record in Florida, where he served as governor from 1999 to 2007, and focused mostly on conservative education policies, such as creating the first statewide voucher system and. expanding access to charter schools. "That's improved public schools," Bush said. 
Bush also zeroed in on one of the main reasons that many conservatives oppose Common Core academic standards: a fear that the federal government is nationalizing the public school system. Bush didn't dispute that notion, saying that with "this president and this department of education, there is a risk they will intrude."
Bush said the federal government should have "no role" in the creation of standards, creating a curriculum, or the content. "The role of the federal government is to provide incentives for more school choice," Bush said. "That is a better approach."
Bush also told the group that he left the state with $9.5 billion in reserves. "Florida is a place where conservative principles have helped not just Republicans but everybody," he said.
Asked for his top priorities as president, Bush said he would undo the president's executive orders "using authority he doesn't have," push for regulation reform, tax reform, and "send a signal to the world that we'll be their partner for security."