Japan's Output Jumps While Retail Sales Sag, Inflation Slows
Toru Fujioka and Keiko Ujikane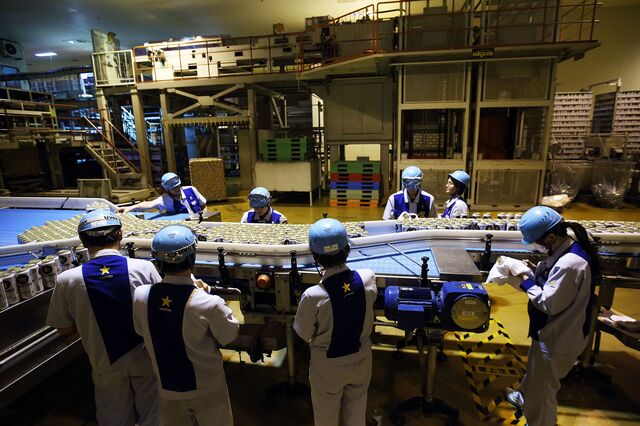 Japan's industrial output increased the most in more than three years while retail sales slid and inflation slowed, underscoring strength in export industries and weak domestic demand.
Production jumped 4 percent in January from the previous month, exceeding forecasts with the biggest gain since June 2011, according to trade ministry data. Retail sales fell 1.3 percent, household spending dropped and the central bank's main inflation measure slowed to 0.2 percent, excluding sales-tax effects.
A pick up in exports driven by the weaker yen and stronger demand in the U.S. helped fuel manufacturing. The drop in the exchange rate is also increasing costs for households that have seen living expenses outpace incomes, highlighting the stakes for Prime Minister Shinzo Abe as he tries to get companies to boost pay in this spring's negotiations with labor unions.
"The economy is recovering steadily, mainly on the back of external demand," said Izumi Devalier, an economist at HSBC Holdings Plc. "We haven't really seen much of a recovery in household consumption at this stage."
The yen has declined 8.5 percent against the dollar since Bank of Japan Governor Haruhiko Kuroda boosted already-unprecedented easing on Oct. 31. The Japanese currency was trading at 119.27 at 11:09 a.m. in Tokyo.
The Topix share index rose 0.3 percent, bringing its gains to 51 percent since Kuroda introduced the monetary stimulus plan in April 2013.
Inflation Gauges
Consumer prices excluding fresh food rose 2.2 percent from a year earlier, the statistics bureau said. That was less than the median projection of 2.3 percent. Stripped of the effect of a sales-tax increase last April, core inflation -- the BOJ's key measure -- was 0.2 percent, below the BOJ's target for 2 percent inflation.
The slowing inflation highlights the challenge for the central bank in reflating the world's third-biggest economy.
Kuroda told parliament on Thursday there'd been no major negative shift in inflation expectations, standing his ground on a view laid out last week when he said further measures weren't warranted at this point.
Some policy makers at the BOJ view further monetary easing to shore up inflation as a counterproductive step for now, amid concern it could trigger declines in the yen that damage confidence, people familiar with the talks said earlier this month.
Living Costs
Economists at JPMorgan Chase & Co. said last month that Japan is likely to fall back into a temporary spell of deflation by March that could last through November. Economists at BNP Paribas SA estimate prices falling as early as February.
Twenty-six of 35 economists in a Feb. 5-10 Bloomberg survey forecast the BOJ will expand monetary stimulus by the end of October.
Even with consumer price gains slowing, the cost of living is still outpacing pay gains. Wages adjusted for inflation fell 1.7 percent in December from a year earlier, an 18th straight drop, according to government data released earlier this month.
Megmilk Snow Brand Co. cited higher costs stemming from a weak yen for plans it announced this week to raise prices of butter and cheese by as much as 8.2 percent from April.
Abe, in meetings with business and labor union leaders, has urged companies to pass along some of the benefit of rising corporate profits. Kuroda has called on business leaders to use profits more productively, saying their could use their cash to boost investment in facilities and jobs.
Japan's top labor-union association said it will seek the biggest increase in monthly wages in more than two decades as it makes inflation the key point in the annual pay talks, according to the group's president, Nobuaki Koga.
"Domestic consumption is still not resilient but it will become stronger later this year as wages increase as a result of the spring negotiations," said Yoshitaka Suda, an economist at Nomura Holdings Inc.
Before it's here, it's on the Bloomberg Terminal.
LEARN MORE