He Tried to Deliver Your Mail Through Snow. Honest: A Day's Work
Tom Moroney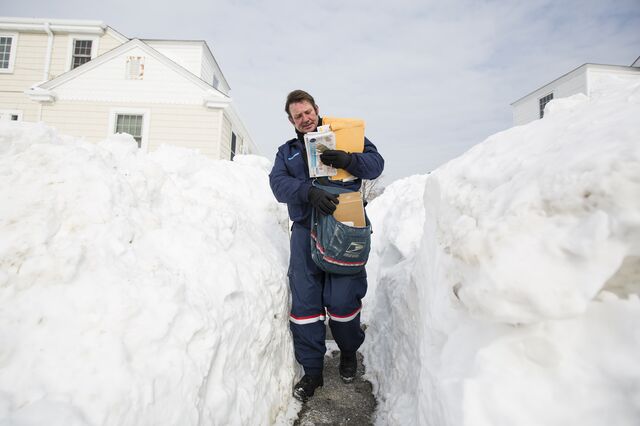 Boot crunch, crackle. The mailman trudges through the whiteout world: one step after another, one house after another into the arctic quiet.
John Bachman, 54, moves uneasily across meteorological history this New England winter of numbing cold and snow as high as an elephant's eye. He is a U.S. letter carrier on one of the region's most treacherous routes. He brings magazines and bills to the alphabet streets -- B to J -- in the town of Hull, Massachusetts, a six-mile peninsula a half-mile wide that juts into the southern edge of Boston Harbor, making it a target for nature's unkindest cuts.
Bachman is a retired U.S Army Reserve sergeant with thick sideburns and youthful handsome features that could help him pass for country star Tim McGraw's cousin. He has a lean athletic frame sustained by his eight-mile daily walks. He's built for the nastiest stuff the Norse gods can dish out.
Stalactite icicles are 12 feet long, sidewalks have disappeared. The National Guard has been here to dig out as the winds have roared past 50 miles an hour and the temperatures plunged to minus 17 degrees Fahrenheit with the wind chill. Hull's children have missed 10 days of school.
Bachman has 420 mail stops that increase to 520 in the summer as the "snowbirds" return for the town's expansive Nantasket Beach, restaurants and shops and warm-weather memories that seem lost forever right now. Under his work table at the post office are trays of the undelivered. For a good part of the month, there were two dozen or more mailboxes he couldn't get to.
A customer so fed-up with having to continually shovel out his mailbox pulled it off its post and plunked it on the porch. A woman whose box was buried yelled from her deck, "Toss it up here!" Bachman demurred.
He's seen the best of humanity-on-ice. Twice strangers have helped pull his marooned mail truck from snowbanks. And the worst: twice a customer in her car gave him the middle finger after she decided he was deliberately following her around to block her way.
"It's the storm of the century, people are exhausted and they go out of character," Bachman says.
Great Snow of 1717
Three feet of the 100 inches of snow that have fallen since January is still on the ground, a depth of cover not seen since the Great Snow of 1717, according to Rob Gilman, a meteorologist and 20-year Hull resident.
The event was so indelibly etched into the New England conversation that it was talked about 100 years later in the time of Emerson and Thoreau, said Gilman, co-owner of New England Weather Science that documents snowfall amounts for cities and towns.
This particular Saturday is a working day for Bachman. He looks to one side and sees the Atlantic Ocean, ice chunks cozying up to the shores as if they were invited. On the other side is the bay, frozen, a Coast Guard ice-cutter keeping open the 20-minute ferry routes to Boston.
The morning forecast makes him happy. It is 2 degrees Fahrenheit above -- not below -- zero and chances for a 20-degree afternoon are good. "Balmy," he says. His mail sorted, he drives to the first of 19 places where he gets out and walks part of the route.
The house at the head of B Street is packed in, a 15-foot glacial mound covering the porch. Bachman shakes his head and heads for his second customer. A white van has wedged itself into the driveway, no chance for passage to the mailbox.
At the next stop, he goes around to a back door.
"They shoveled, they made the effort," he says. "When I see that, I do what I can."
As a woman on C Street opens the door to take the mail, Bachman turns and says, "How is he?"
"I brought him home yesterday," the older woman says of her husband, who was in the hospital.
Bachman knows just showing up can be more important than any piece of mail he delivers that day.
Farther up the street, another customer is busy shoveling out a buried storm drain. "Everybody pitching in," Bachman says.
Medic in Iraq
These moments remind him of Iraq, where he saw people die and watched soldiers go above and beyond. Bachman was a medic in the U.S. Army Reserve, heading into Baghdad weeks after the 2003 invasion and staying in the region for the next 18 months.
"It's amazing what people do," he says. The only other connection he makes between Hull and Iraq is the ground underneath. The sands of the Sunni Triangle, where the U.S.-led coalition met some of its fiercest opposition, was as difficult to navigate as Hull's slush.
Otherwise, he says, "My worst day here is so much better than my best day there."
Bachman grew up the oldest of four in Manchester-by-the-Sea, a Massachusetts coastal community 25 miles north of Hull as the crow flies. That his father is a retired postal employee had no bearing on his career path, he says. He graduated from high school and went to Bentley University in Waltham, Massachusetts, before dropping out after two years and enlisting in the Army. He was stationed at Fort Bragg, North Carolina, where he trained as a medic.
Over the next nine years, he saw Hawaii, Thailand and Panama. As part of the military police, he was in Manuel Noriega's office after the dictator was ousted in 1989. Leaving active duty for the reserve in 1990, he took a battery of tests for jobs with the hope of becoming a police officer or firefighter.
Postal Exam
The postal exam was the one that paid off. He was hired in 1993 as a mail handler on the night shift in Billerica, Massachusetts. In 2000, he transferred to Hull.
Six months in, he was called up for reserve duty and sent to Bosnia for nine months. He retired from military service five years ago and lives with his Irish-born wife, Kathleen, in a split-level home in Hull that's not on his mail route. Kathleen, an executive assistant in Boston, goes to work on the ferry that has failed to run twice already because the route froze over. The couple has no children.
After 22 years, Bachman makes about $60,000 a year, not including overtime. He recently decided his pensions from the military and post office would not give him enough to retire at age 62. He'll stay on the job until 66, "which means I'll be walking the streets of Hull for another 12 years," he said.
The fact that the government projects letter carrier as one of America's top 10 fastest-declining occupations doesn't bother him.
"They can build a car with robots, I understand that," he says. "I can't see 100 drones in the air, dropping off mail around Hull."
Neither can Veronica Mitchell, 72, who recalls how Bachman helped push free her snowbound Dodge Neon.
"He's wonderful," she says after he gives her Saturday's mail.
It is late afternoon now. The sky grows dark as another storm moves in from the west with a double punch: first snow and then rain.
When the first flakes appear, Bachman is a few bundles shy of being finished for the day.
"The snow's OK," he says. "It's the rain I worry about. There's no way to protect the mail."
Before it's here, it's on the Bloomberg Terminal.
LEARN MORE