Food Follows Oil in Favoring U.S. Restaurants: Chart of the Day
David Wilson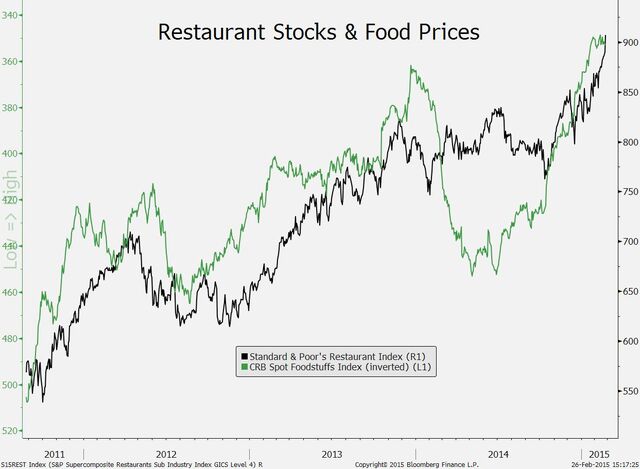 Falling food costs explain why restaurant stocks are rising to records as oil prices come off their lows, according to Neil Dutta, head of U.S. economics at Renaissance Macro Research LLC.
The CHART OF THE DAY compares restaurant chains in Standard & Poor's U.S. stock indexes with a food-price index compiled by the Commodity Research Bureau. The latter indicator tracks prices of butter, corn, sugar and seven other foodstuffs for immediate delivery, and is shown on an inverted scale.
The restaurant index, which consists of companies in the S&P 500, MidCap 400 and SmallCap 600 indexes, rose 19 percent from last year's low on Oct. 13 through yesterday. During the same period, the CRB food index dropped as much as 17 percent and reached its lowest value in 4 1/2 years.
Restaurants are charging more even as food gets cheaper, Dutta wrote. Prices for food that's eaten away from home rose
3.1 percent in January from a year earlier, according to data compiled by the Labor Department.
"The drop in food prices is not passing through to consumers who are dining out," the New York-based economist wrote. At the same time, the earlier plunge in gas prices "has been a powerful tailwind for restaurant traffic." Oil tumbled as much as 60 percent in New York from June 20 to Jan. 29, and then rose 11 percent to settle at $48.17 a barrel yesterday.
Cracker Barrel Old Country Store Inc.'s restaurant sales at locations open more than a year climbed 7.9 percent in the fiscal second quarter. The comparable-store sales increase at the Lebanon, Tennessee-based company, reported three days ago, was the biggest in more than a decade.
Before it's here, it's on the Bloomberg Terminal.
LEARN MORE