Bombardier Gets CSeries Boost as Flight Snaps Streak of Setbacks
Katherine Chiglinsky and Scott Deveau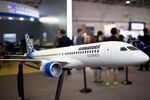 Bombardier Inc.'s CS300 jet took to the skies today in its first test flight, offering a spot of positive news for the beleaguered CSeries program.
The plane, the larger of two models in the family, lifted off from the runway at Bombardier's Mirabel, Quebec facility at just after 11 a.m. today amid mostly sunny skies, moving the development of the company's biggest line of jets one step forward.
"It's certainly a good positive that you can get a test vehicle up in the air and start testing because the quicker the testing gets done, the less money you keep spending on something," Neal Dihora, an analyst at Morningstar Inc. in Chicago, said in a phone interview before the flight.
Development of the CSeries has been fraught with years of delays, cost overruns and mishaps during testing, like an engine fire during ground runs last May. Postponed four times, Bombardier's CSeries may now cost $5.4 billion, the Montreal-based company reported in its fourth-quarter earnings call, about $2 billion more than the original projection.
The CSeries has become a make-or-break project for the plane and trainmaker, which has said it expects sales from the jet to help double revenue by the end of the decade. In January, Bombardier put on hold its Learjet 85 business jet program in order to devote resources to the CSeries.
Earlier this month Bombardier named a new chief executive officer and today said it raised $868 million in a stock offering. The company also plans to issue as much as $1.5 billion in long-term debt to shore up its balance sheet.
The company has struggled to attract orders for the jets, even losing its planned launch customer, Sweden's Braathens Aviation AB, which backed out last year. The CS300 can seat as many as 160 passengers. The CS100, which can seat as many as 125 people, began test flights in September 2013 and is scheduled to enter commercial service in the second half of this year. Bombardier has 243 firm orders in total for the planes.
Before it's here, it's on the Bloomberg Terminal.
LEARN MORE