Yellen Fights Back as Lawmakers Intensify Push to Rein In Fed
Jeff Kearns and Christopher Condon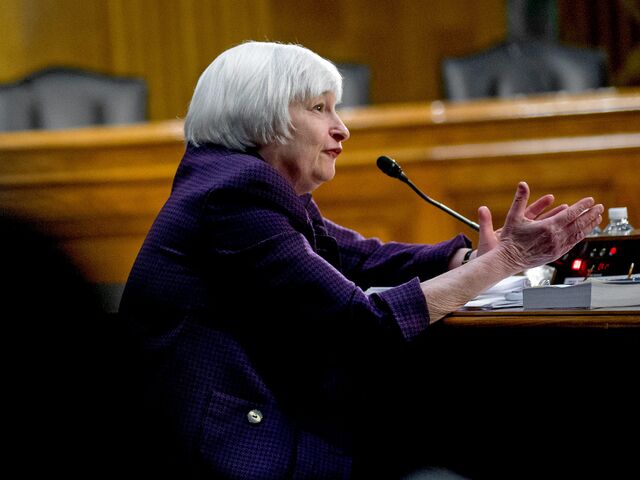 Janet Yellen sparred with Republican lawmakers in the most heated exchange in her yearlong tenure as Federal Reserve chair, highlighting the central bank's exposure to growing demands for greater oversight from Congress.
In testimony on Wednesday before the House Financial Services Committee, Yellen forcefully rejected accusations from Republicans that she's unaccountable to Capitol Hill and too closely aligned with the White House and Democrats.
"The Fed already has been completely immersed and guided by partisan politics," said Scott Garrett, a New Jersey Republican who has introduced one of the bills this year to give Congress more control over the Fed and curb its powers.
Yellen called that a "complete mis-characterization."
Republicans want to rein in the Fed's expanded oversight of the financial industry while limiting its aggressive monetary policy. Yellen's challenge is to push back against proposals that include Senator Rand Paul's "Audit the Fed" bill, while trying to avoid damaging political fights.
The confrontational hearing "is not business as usual," said Allen Sinai, chief executive officer of Decision Economics Inc. in New York. Yellen's propensity "is to answer questions directly and clearly and not to mince words. That can get the chairperson in trouble in a hot political world."
Tension between the Fed and Congress is not new. Yellen's predecessor, Ben S. Bernanke, a Republican appointed by President George W. Bush, endured bruising encounters with lawmakers during the financial crisis when the Fed became a lightning rod for public anger over Wall Street bailouts. Yet Wednesday's hearing was particularly combative.
Politically Partisan
In Garrett's exchange with Yellen, he accused the Fed of partisanship because she met with President Barack Obama at the White House a day before last November's midterm congressional election and held a separate meeting later that month with labor and community organizers.
"The more pressure there is to legislate, even if they don't do so, the more the Fed has to open its ears and figure out how to be more responsive to these pressures," said Sarah Binder, a senior fellow at the Brookings Institution in Washington. "This was a real partisan broadside."
Bill Huizenga, a Michigan Republican who has proposed requiring the Fed to follow a rule in setting interest rates, questioned Yellen's regular meetings with Treasury Secretary Jacob J. Lew.
"The Federal Reserve is independent," Yellen countered, saying she doesn't discuss future monetary policy actions with the secretary or with the White House.
Financial Services Chairman Jeb Hensarling of Texas, who last year led a series of hearings scrutinizing the Fed, set the tone for the three-hour hearing by telling Yellen he plans to "listen very carefully" to suggestions to overhaul the Fed.
Reforms Needed
"Fed reforms are needed, and I, for one, believe Fed reforms are coming," Hensarling said.
Democrats and Republicans have signaled that they would support efforts to curb some Fed powers or change its structure. The central bank has been criticized by both parties over its rescues of big Wall Street banks in the 2008-2009 financial crisis, and by Republicans over steps to support the economy through zero interest rates and massive bond purchases.
Yellen's semi-annual testimony in the House followed a similar hearing Tuesday before the Senate Banking Committee. Richard Shelby, the Alabama Republican who leads the panel with authority over the Fed, announced this week that he plans a March 3 hearing on "Federal Reserve reform" along with other hearings later next month on regulation of the biggest banks.
Market Impact
Investors would react badly if Congress succeeded in curtailing the Fed's powers or politicize its workings, said Michael Materasso, who helps oversee $348 billion of bonds as co-chairman of the fixed-income policy committee at Franklin Templeton Investments in New York.
"Not only would that be viewed negatively by U.S. investors but global investors as well, and it could have a negative impact for the dollar," Materasso said. "They're trying to mute the powers of the Fed."
Both parties face obstacles. While Republicans now control both houses of Congress after the first change in command of the Senate since the 2008 financial crisis, they still need to attract at least six Democratic Senate votes to advance legislation. Any bill that limits the Fed's independence on monetary policy faces the threat of a presidential veto.
Dodd-Frank
The last major threat to the Fed came in the aftermath of the crisis with the drafting of the Dodd-Frank Act of 2010, the most sweeping overhaul of financial industry regulation since the Great Depression. Lawmakers nearly agreed to take away the Fed's bank supervision authority, which the central bank successfully fought to preserve in the final legislation.
Kentucky Republican Paul, a potential 2016 presidential contender, wants to allow Government Accountability Office audits of monetary policy. Yellen said in Tuesday's hearing that it would "politicize monetary policy" by subjecting the Fed to short-term political pressure, and that it isn't needed as the Fed already is "extensively audited."
Shelby on Tuesday signaled that he's not interested in the audit bill and said he's looking "very strongly" at a proposal from Dallas Fed President Richard Fisher to strip the New York Fed of its permanent vote on the Federal Open Market Committee.
The Fed may be forced to avoid harsher measures by agreeing to some changes, such as on how policy makers are selected, said Judd Gregg, a former Republican senator from New Hampshire who later led the Securities Industry and Financial Markets Association, Wall Street's biggest lobbying group.
"It may be that the Fed has to give some turf," Gregg said. He said the audit bill is unlikely to become law as "there are going to be some voices that rise up in the legislative community to say let's cool the engines of populism here and think about what we will really end up doing to our nation."
Before it's here, it's on the Bloomberg Terminal.
LEARN MORE