What Jesus 'Chuy' Garcia Is Made Of
The man who forced a run-off with Chicago Mayor Rahm Emanuel is the son of a farm worker and a casualty of the Daley machine. But none of that has stopped him—yet.
By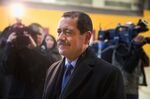 Even some of Jesus "Chuy" Garcia's closest friends initially thought that the 58-year-old Cook County commissioner would have no chance in a last-minute run against Chicago Mayor Rahm Emanuel. "I told him not to do it,'' said Matt Piers, who has known Garcia for 35 years, "because I did not think it was doable" for a guy with no cash or connections to take on an incumbent with so much and so many.
One of four challengers, Garcia raised only $1.4 million in the months that followed—compared to the $13.6 million that Emanuel's campaign took in. Just before the election, the current mayor welcomed his old boss the president back to town, too. At an event officially designating the old Pullman Historic District a national monument, Obama joked about the not-so-sly timing by referring to his longtime dream of becoming the first president to declare a new monument in the sub-freezing temperatures of mid-winter "Chi-beria." And as long as he was there, he lavished a few compliments on his former chief of staff, calling him "an essential part of my team in the White House during some very hard times for America. I relied on his judgment every day, his smarts every day, his toughness every day.''
Thanks for the input, replied Chicago, where Emanuel has lost support over mass school closings, a crooked red-light camera traffic ticketing program, and even the December mugging of his 17-year-old son. Couldn't the mayor keep his own child safe?
Still, after Garcia took the 34 percent share of Tuesday's vote that put him in a one-on-one April runoff with Emanuel, who received 45 percent of the vote, "it was surreal, like a dream come true,'' said another Garcia ally, Amalia Rioja. "The whole landscape just shifted." 
Until now, Garcia could only count on two things: his nice way with people and the unqualified support of the Chicago Teachers Union, whose president, Karen Lewis, was planning to run herself until she was diagnosed with brain cancer.
But in the six weeks before the April 7 runoff, the campaign will suddenly have money to talk about his record as a reformer who lost his seat in the Illinois Senate in 1998 after being targeted by the Daley machine. He's had some memorable wins, too, like organizing a 19-day hunger strike of mothers in his neighborhood, Little Village, an attempt to force the construction of a long-promised high school in 2001. Three months later, then-new schools head Arne Duncan found the money to build it.
The son of a farm worker who first came to the U.S. under the "braceros" work program launched in the 1940's, Garcia, too, was born in Los Pinos, a tiny town near Tepehuanes, in Durango, in northwestern Mexico. When he was 10, his family moved as permanent residents to Chicago, where his father had a job in the meat-packing industry.
He started working in a legal aid office while still a political science major at the University of Illinois at Chicago, where he also attended graduate school.
But his first real experience in politics was as campaign manager for labor organizer Rudy Lozano, in his 1983 city council run against a long-serving alderman who according to "Chicago Politics, Ward by Ward," by David K. Fremon, only made news when he offered a $1-a-head bounty for rats in his ward, and when the Sun-Times questioned whether he even lived in the city of Chicago.

However, that incumbent, Frank Stemberk, was a reliable ally of Edward Vrdolyak, who controlled the city council and was so widely reviled that in 1989, the Chicago Tribune noted that "other politicians will request anonymity before saying something nice about him." After his influence in the Cook County Democratic Park he'd once run dried up, "Fast Eddie" became a Republican, and long after leaving public life to practice law served time in federal prison.
When Lozano took on Stemberk in 1983, though, it was pretty remarkable that the organizer and his 27-year-old campaign manager came within 17 votes of forcing a runoff in that race, too. Lozano's supporters were and still are convinced that an illegal purge of voters with Hispanic names cost him that election.
Then, only three months later, Lozano was murdered in his home—and though a gang member was convicted in the shooting, his friends still believe that the crime was motivated by his organizing efforts for workers in tortilla factories.
It was the next year, and against the same Frank Stemberk, that Garcia reluctantly ran his own first race, for Democratic committeeman. He won that one, won again when he ran to fill Stemberk's city council seat in 1986, and was Mayor Harold Washington's closest Latino ally. 
Throughout his public life, he's pushed for transparency in government, and after he lost his state senate seat, he started a non-profit in the Chicago neighborhood where he's lived since he was a kid—and still shares a bungalow with his wife Evelyn, a teacher's aide whose multiple sclerosis forced her to retire early.
"He seems like a good dude in real life,'' said Frank Logan, 41, who met the candidate while he was shaking hands in downtown Chicago on Wednesday morning. "He seems like a solid cat.''
If elected, he promises to add 1,000 police officers, reopen some of the schools Emanuel closed and turn off the red-light cameras, too; now he's being pressed to say more about how he'd pay for these proposals. Suddenly, his allies feel he might actually win this thing, but they also expect the next six weeks to be brutal. One friend said she sees the runoff as the rare hopeful sign that maybe politics isn't all about money. But she's not so hopeful that she wants to be quoted to that effect, in case Emanuel prevails again.