U.S. Home Prices Beat Estimates With 0.8% December Gain
Prashant Gopal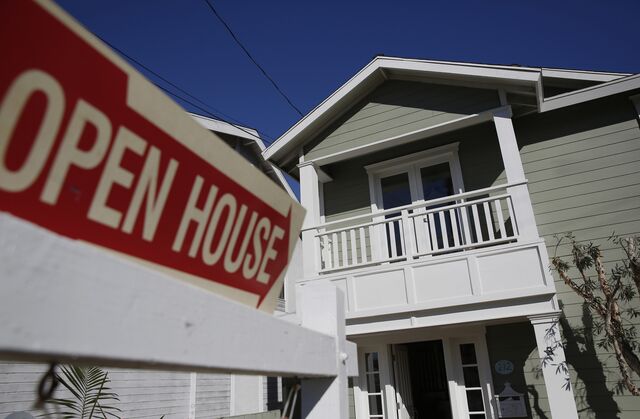 U.S. home prices rose more than economists estimated in December as job growth and tight supply drove demand.
Prices climbed 0.8 percent on a seasonally adjusted basis from November, the Federal Housing Finance Agency said in a report from Washington. The average economist estimate was for a 0.5 percent increase, according to data compiled by Bloomberg. In the fourth quarter, prices advanced 1.4 percent from the previous three-month period and 4.9 percent from a year earlier.
The housing recovery is benefiting from a strengthening job market, while buyer competition for a scarcity of listings bolsters prices. There were 1.85 million previously owned U.S. homes on the market in December, the fewest since January 2013, data from the National Association of Realtors show.
There's "definitely a re-acceleration of house prices," Paul Diggle, U.S. property economist for Capital Economics Ltd. in London, said in a telephone interview. "The reason is supply tightened a lot at the end of last year because would-be sellers were put off by the earlier slowdown of price gains."
The pace of increases has picked up, according to FHFA data. In the third quarter, prices climbed less than 1.1 percent from the previous three months.
The top areas in annual appreciation in the fourth quarter were Washington, D.C., with a jump of almost 13 percent, and Nevada, up 9 percent. Prices advanced 8.4 percent in North Dakota, 7.9 percent in Colorado and 7.8 percent in Michigan.
The FHFA index measures transactions for single-family properties financed with mortgages owned or securitized by Fannie Mae and Freddie Mac. Another home-price gauge, the S&P/Case-Shiller index of 20 cities, showed this week that values in December climbed 0.9 percent from the previous month and 4.5 percent from a year earlier.
U.S. payrolls advanced by 257,000 in January, capping the biggest three-month gain in 17 years, according to Labor Department figures. The unemployment rate rose to 5.7 percent from 5.6 percent, the lowest level since 2008, as more Americans looked for work.
Before it's here, it's on the Bloomberg Terminal.
LEARN MORE