It's a Beautiful Day in the Agrihood
Would you like a little lettuce with that colonial? Developers use farms to lure homebuyers
By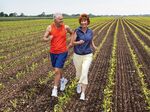 American builders have a long history of bulldozing farms to make way for housing developments. Now developers are starting farms to sell homes. Harvest, a $1 billion "urban agrarian" community being built by H. Ross Perot Jr.'s Hillwood Development in Texas, hired a farmer to cultivate vegetables before construction began on a planned 3,200 houses. Willowsford, a community of 2,130 homes in Virginia's Loudoun County, set aside 2,000 acres of green space, including 300 acres for raising fruit, vegetables, chickens, and goats. Developer DMB integrated produce fields and edible gardens into projects in Arizona, California, and Hawaii.
As the housing industry recovers, developers are counting on fresh veggies to tempt retired baby boomers looking to eat local and parents intent on nurturing children on organic meals. "The foodie generation has come of age," says Ed McMahon, a resident fellow at the Urban Land Institute in Washington. "The mainstream development community has come to think of these as a pretty good way to build a low-cost amenity that people seem to like and that also adds authenticity."

Agrihoods, as they're known, such as the 359-home Prairie Crossing outside Chicago, began cropping up in the 1980s. What's changed is the size and number of projects and the entry of large corporate developers. A restored 19th century farmhouse and 5-acre commercial farm sets Harvest apart from other subdivisions northwest of Dallas, according to Tom Woliver, Hillwood's director for planning and development. "You need to attract some interest," he says. "Food brings everyone together."
At the Willowsford development in Virginia, Susan Mitchell says the outdoor stand selling community farm berries, asparagus, and carrots is a gathering place for neighbors. Mitchell, who bought a four-bedroom Hovnanian Enterprises house with her husband, can walk to the stand with her young sons, stopping along the way to pick flowers, pet goats, and chat with the resident farmer. "It's having a little more nature in your backyard than the normal community," she says.

Willowsford's farm, which runs at a deficit for now, will break even by about 2018 as more residents, local restaurants, and markets purchase its food, according to Brian Cullen, head of Willowsford's development team. Cullen says companies that built communities around golf courses spent a lot more and found only a few residents played. "A farm is about 20 percent of the cost of a golf course," he says.
About 500 of the planned 2,130 homes have sold since Willowsford opened in 2011. Prices currently start at about $600,000. Two community centers have demonstration kitchens for pop-up restaurants, wine tastings, and culinary classes. "We're very focused on having the economics of it work and having a real farm experience," Cullen says. Willowsford is the best selling of Hovnanian's 20 communities in Northern Virginia, according to its group president, Peter Thompson. "Everybody's fighting for sales," he says. "The farm component is a real and very positive influencer."

New Home Co. broke ground in January on a barn that will be the centerpiece at the Cannery, a 547-residence community in Davis, Calif., with a 7.5-acre farm and a full-time farmer. Almond and pear trees will line bike- and footpaths linking the Cannery to the nearby University of California at Davis, a top U.S. agriculture school. Residents will be encouraged to sign up for delivery of fruit and vegetables grown on-site, while other produce will be sold to markets and restaurants. "It's not just a gimmick that will go away when the sales office closes," says Kevin Carson, New Home's Northern California division president.
At DMB's Kukui'ula, a 1,500-unit resort on the Hawaiian island of Kauai, gardens offer vacation-home owners a chance to get their hands dirty while picking fresh decorative flowers and tropical produce that's also used at local restaurants. Bungalows start at $1.6 million in the oceanside community, which also features a spa, a fitness center, swimming pools, and a Tom Weiskopf-designed golf course. "We spent a fraction of our amenities budget on the farm, but it was clear to us very early on that we had hit a nerve," says Brent Herrington, DMB's executive vice president.

Boosting home sales isn't the only reason developers are weaving farms into their subdivisions. Tony Moiso, chief executive officer of Rancho Mission Viejo, says he wants to preserve green space in perpetuity at his project in southern Orange County, Calif. The community farms and vegetable gardens give residents of the 14,000 planned homes educational tools to learn respect for the land, he says. About 17,000 of Rancho's 23,000 acres will be preserved as lemon and avocado groves, cattle ranges, and forests.
Rancho Mission Viejo hired full-time farmers to promote community involvement in cultivation and ensure the fields flourish even if residents lose interest. "This helps us sell, but it's a bigger story for us," says Moiso, whose family has owned the land since 1882. "It has to do with the culture of care, about the blessings of the land, and the idea that food doesn't just show up at places like Trader Joe's."
The bottom line: Working farms and vegetable gardens are replacing golf courses and granite countertops as bait for new homebuyers.
Before it's here, it's on the Bloomberg Terminal.
LEARN MORE