Food
Jean-Georges's Secrets of Success
Or how to make more than $371,000 dollars in one night
By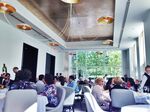 Phil Suarez, 73, was a New York City-born tough guy who conquered Madison Avenue, producing some of the best known commercials of the '70s. Then he moved to videos like Michael Jackson's "Beat It." Jean-Georges Vongerichten, 57, was an Alsatian-farm boy sent off to work in French kitchens before taking New York by storm. The two met in the late '80s, became business partners, and now run one of the most successful high-end restaurant partnerships in the world with 27 restaurants, 6,000 employees and more than $200 million in annual revenue. Peter Elliot sat down with them at Jean-Georges, their flagship at the Trump International Hotel.  
Peter Elliot: Some restaurant marriages work and most don't. Why is yours the exception?
Jean-Georges Vongerichten: It's simple. Phil never says "non." 
Phil Suarez: What a load of … I say "non" all the time; he just pretends not to hear me. Typical Frenchman. My answer? It works because I'm a bit older, I had plenty of restaurant experience before I met Jean-Georges, and let's face it, I'm a New York City kid, I know the rules. You don't go in without knowing the rules.

Elliot: And what are the rules?
Suarez: Get the deal you want first. Ideas? Ideas are great. Jean-Georges has ideas left and right. Finding the space. The lease. Keeping construction costs down, making sure you have the right team. That you're not paying for some million-dollar cockamamie chef. That's the deal.
Elliot: Come on. We're sitting in what was one of the most expensive build-outs in the world at the time (1997).
Vongerichten: We spent a little more. But not much. Our best hits are real-estate stories, going back to our first, JoJo in 1991. It was a bad recession. Phil got the lease for next to nothing. We spent little and cut our prices in half from all the other places, or at least half what I was charging when I was at Lafayette where I met Phil. 
Elliot: So if someone comes to you today asking for advice? You say, "know the deal" and …
Suarez: Don't leave anything on your back. I never wanted to have him (JG) with anything on his back. Nothing to look behind him. Just go do your creative thing. The only big risk I ever took was on Spice Market [in NYC]. That was the biggest risk I ever took.
Vongerichten: With almost all the others—there was a bankruptcy, or, like Mercer [a turnkey]—we really just walked right in. Spice Market was just a big investment on lots of different levels.

Elliot: You didn't choose the path of buying real estate instead of doing lease deals?
Saurez: Coulda, woulda, shoulda. No. And mostly I'm glad about that. Do good deals you don't need the real estate. It's very freeing. We walked away from Vong, a few others—just because it wasn't right. 
Vongerichten: If we had bought the building that Spice Market was in 2003 ...
Elliot: Why didn't you?
Saurez: It wasn't that easy. Multiple owners and a whole bunch of stuff. I just didn't want to do it. Don't look back.
Elliot: You have two in Las Vegas (Bellagio and Aria). How do those deals work?
Vongerichten: They are licensing deals—you make a deal with the hotel and watch carefully.
Elliot: Do you risk damaging your brand name with products you can't control?
Vongerichten: We really do control it. That's part of the deal. All the key people there have been with us since the beginning. That's essential. And you can't do "four-star" food—that's why it's a steak house. I do things I know we can't screw up.
Elliot: And how do the deals work? Are they worth the trouble?
Suarez: We like to go in there, we offer our name. We design with them. There's a development fee for that. We ask for a percentage of the gross and a piece of the bottom line. They (the hotel) operate it but we always have to worry about quality control—that's part of our thing.

Elliot: Each part of that has to be expertly negotiated or you fail?
Suarez: I don't know about expertly! But yes. Whether it's Vegas, or Shanghai, or New York. Each of those parts has to be right or I wouldn't even bother. It's worth it—we did $371,000 in one night, between 6 p.m. to 10 p.m. One restaurant in Vegas and $300,000 of it was one guy ordering wine. That's worth it baby.
Elliot: Not everything has been a success. What have you learned from failures?
Vongerichten: Don't play with tradition! V Steakhouse at Time Warner, I tried to play with an American steakhouse. Americans want American steakhouses. That's how I know what do in Las Vegas! So V wasn't a complete disaster.
Suarez: For me? I love just going at it again. ABC, everyone is going nuts about ABC. We started with ABC Kitchen, then Cocina, now we're opening a vegetarian concept in the Spring—but people forget—we had Lucy there before. Remember that? If you have a good deal just keep going back 'til you get it right.
Elliot: You're one of the few celebrity chefs who doesn't do reality TV. Why? 
Vongerichten: No one can understand my accent! Besides, it's just not my thing. You've got to be in your kitchens or it all falls apart.
Suarez: People expect the brand. He's the brand. Not me. Which is why I'm leaving now to go to Rao's and he stays here.
This article originally appeared in the February 2015 edition of Reserve, a Bloomberg Brief publication. Click here for the full issue and to request a subscription invitation.
(Corrects spelling of Phil Suarez's name) 
Before it's here, it's on the Bloomberg Terminal.
LEARN MORE