Ted Cruz Unleashes His Inner Trekkie
The Texas senator performed his "Scotty" impression, while conceding it occasionally confounds.
By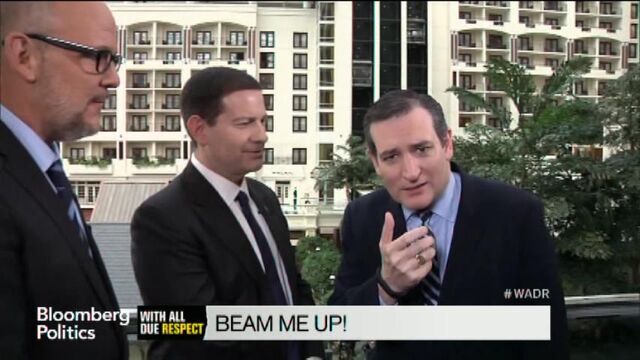 Border security hawk, Common Core foe... and Star Trek fan?
Having struck internet gold back in October with his imitation of the Godfather's Michael Corleone, Senator Ted Cruz took a break from the policy and politics of the CPAC conference on Thursday to give Bloomberg Politics' John Heilemann and Mark Halperin his best "Scotty" from the sci-fi franchise.
"Computer!" he said in an imitation of actor James Doohan's brogue. "Oh… A keyboard… How quaint."
His impression of the fan-favorite red shirt didn't immediately land with Heilemann and Halperin, who didn't know whom he was trying to channel.
"You're not enough of a geek," the Texas senator explained patiently. "That is Star Trek IV, and that is Scotty when he's back in San Francisco in the 1980s, and he picks up and talks to a mouse."
He admitted he had tried the imitation on some "twentysomethings" from his staff—and received similarly uncomprehending reactions.
The conservative star devoted much of the With All Due Respect interview to his recommendation that a conservative running for president (as he is thought to be) would need to "reassemble the Reagan coalition" of conservatives, libertarians, and Reagan Democrats. He also criticized former Florida Governor Jeb Bush's stances on immigration and the Common Core curriculum standards.
He said, though, that it was all right to joke around every now and then.
"I've got to say, a lot of Republicans, I think, sometimes take themselves to seriously," he said. "Life's too short not to have fun."