Standard Chartered Appoints Winters CEO in Management Exodus
Stephen Morris and Ambereen Choudhury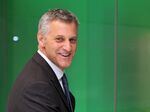 Standard Chartered Plc named Bill Winters to replace Peter Sands as chief executive officer in one of the bank's biggest-ever management overhauls to help reverse faltering earnings growth and a slump in shares.
Winters, 53, a former co-CEO of JPMorgan Chase & Co.'s investment bank, will join the group in May, before taking over as CEO a month later, Standard Chartered said in a statement on Thursday. Chairman John Peace will leave in 2016, while Jaspal Bindra, head of Asia, plans to step down later this year.
Sands, 53, is leaving the bank after he failed to reverse a stock price decline over the past two years and a drop in earnings that ended a decade of growth. While the CEO last month announced the most aggressive cost cuts since taking over the job in 2006, his plan didn't convince investors and sparked months of speculation about the future of senior managers.
"Sands was an absolute disaster and the chairman was asleep when it was his job to replace the CEO," said David Fergusson, chief investment officer of Singapore-based Woodside Holdings Investment Management Pte., who owns the bank's shares. "Bill Winters is a good choice, a proper banker. It's extremely good they didn't pick someone internal."
The shares initially jumped as much as 5.2 percent and have since retreated, trading 2.1 percent higher at 11:47 a.m. in London. They plummeted about 29 percent in 2014.
'Excellent Choice'
Winters, who currently runs Renshaw Bay, an asset management firm in London, will receive a base salary of 1.15 million pounds ($1.8 million), according to the statement. His total potential compensation is as much as 4.6 million pounds.
He was ousted by CEO Jamie Dimon in September 2009 after 26 years at the bank and later served on the British government-sponsored Independent Commission on Banking. The native of New York founded Renshaw in 2011 with funding from Jacob Rothschild's RIT Capital Partners Plc.
"Winters is an excellent choice to step in to fix up Standard Chartered," said James Antos, an Hong Kong-based analyst at Mizuho Securities Asia Ltd. "First, he is not one of the expected names, so the clear indication is that major shareholders are demanding real change. This news should come as a fantastic relief to the market."
'Fresh Perspective'
Chairman Peace said changes to the board will give the lender a "fresh perspective." Temasek Holdings Pte, the bank's largest shareholder, said in an e-mailed statement that it welcomes efforts to "revitalize" the board, saying "renewal must continue."
Bindra, 54, group executive director, will step down from the board at the end of April and leave the company "shortly thereafter" after 16 years, Standard Chartered said. The bank plans to cut the board's size to 14 directors "in due course."
Ruth Markland, a senior independent director, and Paul Skinner, an independent non-executive director will retire from the board by the end of this year after serving since 2003. Oliver Stocken, on the board since 2004, is stepping down at the end of this month. Christine Hodgson, who joined the board in 2013, will become chairman of the remuneration committee.
Gay Huey Evans, 60, a former director of markets division at the Financial Services Authority, and Jasmine Whitbread, 51, a non-executive director of BT Group Plc, will join as independent non-executive directors in April, the bank said.
Asia Experience
"Bill is a globally respected banker and has the right experience and skills to drive the group's new phase of growth,' Peace said in the statement. ''He brings substantial financial experience from leading a successful global business and has an exceptional understanding of the global regulatory and conduct environment."
Sands became CEO in November 2006, making him the longest-serving boss of any major European bank. Under his tenure, total assets at the bank, which focuses on Asia, the Middle East and Africa, increased to $690 billion in June from $266 billion in 2006, according to data compiled by Bloomberg.
While Winters's reputation for a "more collegiate style" than Sands is seen boosting morale, he lacks experience in running a consumer banking operation in Asia, according to Christopher Wheeler, an analyst at Atlantic Equities in London.
"Winters built out JPMorgan's investment-banking business in Asia, but he lacks experience in retail banking in the region," said Wheeler, who doesn't have a rating on the shares. "He'll be relying on people already on the ground to guide him."
Declining Earnings
The bank posted a 16 percent drop in third-quarter pretax profit to $1.53 billion from a year ago as impairments for bad loans almost doubled and regulatory and compliance costs rose.
The CEO pledged on Jan. 8 to eliminate 4,000 jobs, shut equities trading and save about $400 million in expenses. The bank will release full-year earnings on March. 4.
Sands said it's "absolutely the right time" to hand over to Winters and acknowledged the last two years had been difficult for him, on a conference call on Thursday.
Mike Rees, Sand's deputy CEO and the executive who built up Standard Chartered's wholesale bank, is staying on and there are no plans for him to leave, Chairman Peace said on the conference call. Rees may not stay for long, depending on what role he's given in the new regime, Atlantic's Wheeler said.
"There's still a long way to go for the bank," Woodside's Fergusson said. "It's sooner than I thought but not as soon as I'd hoped."
Before it's here, it's on the Bloomberg Terminal.
LEARN MORE