Speakers Fling Scorn and Sarcasm at Hillary Clinton
The presumed Democratic front-runner isn't far from Republican minds.
By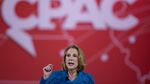 Hillary Clinton wasn't in attendance Thursday, but she wasn't far from the minds of Republicans at the Conservative Political Action Conference who are hoping to impede her path to the White House.
While there were more speeches, signage and swag mocking President Barack Obama than there were criticizing Clinton, she was a clear target for conservatives' frustrations. 
From the main stage, the tone toward Clinton was often sarcastic as her potential GOP rivals went after what they see as some of her biggest vulnerabilities–the Clinton Foundation's donors, her personal wealth, and her tenure at the State Department, particularly her handling of the attack on the U.S. consulate in Benghazi, Libya.
"We could have had Hillary here, but we couldn't find a foreign nation to foot the bill," Senator Ted Cruz of Texas said at the start of his speech, a double-pronged jab at Clinton's spate of six-figure paid speeches and the scrutiny the Clinton Foundation is facing for accepting contributions from foreign governments, even during her time at State.
Former Hewlett-Packard CEO Carly Fiorina, who has been positioning herself as a Republican foil to Clinton,  did more to embrace that role. "If Hillary Clinton had to face me on the debate stage, at the very least she would have a hitch in her swing," she said when asked to make her case for putting a woman on the GOP ticket.
The only woman among at least a dozen Republican presidential hopefuls, Fiorina occupies a unique position to at once build up her own brand while weakening Clinton on behalf of all Republicans.
"Like Mrs. Clinton, I too have traveled the globe," Fiorina said, poking at Clinton's frequent references to the nearly 1 million miles she flew during her four years as secretary of state. "Unlike Mrs. Clinton, I know that flying is an activity, not an accomplishment."
"Mrs. Clinton, please name an accomplishment," she implored.
Fiorina also pounced on Clinton's use of Twitter to weigh in on current events. "She tweets about women's rights in this country and takes money from governments that deny women the most basic human rights," Fiorina said. "She tweets about equal pay for women but will not answer basic questions about her own offices' pay standards—and neither will our president. Hillary may like hashtags. But she does not know what leadership means."
Trotting out a joke she debuted last month at the Iowa Freedom Summit in Des Moines, Tennessee Representative Marsha Blackburn combined media criticism and Clinton attacking during her brief morning speech on the Affordable Care Act. ABC, she said, is the "All 'Bout Clinton network," while NBC is "Nothin' But Clinton" and CNN is the "Clinton News Network." CBS, she added, is "the Clinton B.S. network."

In the exhibit hall, much of focus remained Obama. But Turning Point USA, a group for conservative college students, displayed two tall signs featuring Clinton wagging her finger with the quote: "Don't let anybody tell you that it's corporations and businesses that create jobs." 
America Rising, the Republican opposition research group that focuses much of its work on Clinton, hosted sessions on its research practices and video tracking that while not specifically targeted at her, reflected the strategies the group is using against her.
Clinton also made her way Thursday into at least one policy discussion, as opponents of the Common Core educational standards discussed the potential weaknesses that an unnamed pro-Common Core Republican candidate (former Florida Governor Jeb Bush) could bring into the general election. That candidate would be "unelectable" if matched up against Clinton because of the position, said Emmet McGroarty, education director of the American Principles Project.
"Hillary doesn't have a lot of Common Core baggage," McGroarty said, suggesting that she will be able to use that fact against a Republican who does. 
Republicans still think they have a trump card against Clinton. Asked to share what word first popped into his head after hearing Clinton's name, Cruz said: "Washington."